The DELE and FUNCTIONAL LANGUAGE USE
Why is "functional language use" an important curriculum component?
The DELE / SIELE exam curriculum consists of much more than grammar and spelling. The same applies to their American equivalent, the OPI. Because the DELE / SIELE & OPI test "communicative competency", they are focused on what you can actually DO, more than on what you abstractly know.   (For the sake if convenience, from this point on I will refer simply to the DELE, instead of each time the DELE / SIELE & OPI).
In this blog post we will examine the DELE's curriculum component that identify the "functional language uses" prescribed for every level, i.e., A1, B2, C1 etc. This means, which every day, functional uses of the Spanish language a student needs to master, in order to do well in the DELE exam (or, plainly put, which typical tasks of real-world communication – the OPI's "can do" statements). Examples of such "can do" statements would be: can I identify myself to an official? Can I ask for directions? Order a cup of coffee? Introduce a toast at a wedding? (The latter, at the upper levels, of course!).
"Functional language use" signifies the everyday communicative tasks that the student must be able to perform well, as assessed in terms of four scoring criteria:  fluency, coherence, correctness and sufficiently ample linguistic scope (i.e., knowledge of vocabulary and expressions).  Some more examples of these functional uses would be tasks such as to ask for information or for a favor. Or it could be to express an opinion or sentiment, such as disagreement or repentance. It includes how to relate socially, such as in the tasks of responding to words of welcome, or extending sympathy. It also includes influencing a situation, such as how to give an order or to deny permission. Another set of functional language uses relate to structuring a conversation – for example, tasks such as how to greet someone and how to respond to a greeting.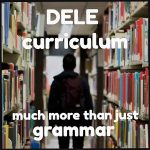 THE RELATIVE IMPORTANCE OF "FUNCTIONAL LANGUAGE USE"
How important is "functional language use' in relation to the other curriculum components? Very! Grammar and pronunciation/spelling are but the first components of the DELE curriculum, which has ten in all. The next main component is "functional language use" (i.e., the "can do" statements). Because the DELE exam does not pose college-style questions that test theoretical knowledge, what you should be expecting, is for your ability to perform these functional tasks to be tested instead.  These tasks happen to also be typical of communication in real life, so mastering them not only serves to help one in the exam, but prepares one for the demands of everyday interaction – which is exactly what the DELE system is designed to foster and measure.
What the section on "functional language use" also does, is to give a good, practical indication of the SCOPE of matter that must be mastered for each level of the exam. In that sense, it is like a built-in "exam spotting tool" that students so much wish to have.
Now, simply to be practical about this blog post, it should be evident that dealing here in detail with the required functional language use competencies as listed in the DELE curriculum for every single level of the DELE system would be too much ground to try and cover in one blog post. We will, therefore, focus here on Level B, because it sits in the middle of the range and students at other levels can get a good idea of what their level's requirements would likely be (all three levels follow the same structure and headings in relation to this particular component on functional language use).  In addition, we will provide links at the end of this blog post to this curriculum component for each level, for your convenience.
Our purpose here is not to give you fully developed phrases as examples of the typical manner in which Spanish-speakers accomplish each of these functions. Again, this is because (even if we limit ourselves to level B) that would require the volume of a whole book, not a mere blog post.  The idea here, in this blog post, is to introduce and sensitize you to the TYPE OF FUNCTIONS that the DELE requires you to be able to perform. We will present these in English (because the original curriculum documents are, of course, in high academic Spanish) so as to make them more accessible to especially the lower-level students. The links to the "functional language use" curriculum segment for each of the DELE's A, B & C levels – which we provide at the end of this blog post – will however lead you to the somewhat wider detail of the original documentation. But not even in the original curriculum itself, will you find full examples of the typical phrases you will need to be able to form and articulate in order to perform these everyday functional tasks – that, your expert 1-on-1 tutor will have to help you with, via Skype.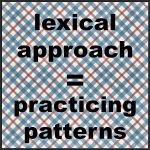 Related to the emphasis on mastering functional language uses in order to communicate competently, is a growing trend towards following a lexical approach as the best way to acquire a new language ("lexis" meaning internalizing "word chunks" or expressions and patterns of language, instead of mostly studying grammar rules – see our blog post: https://delehelp.org/learn-to-converse-in-spanish/).
This lexical trend plays into the DELE's focus on tangible outcomes, not merely on abstract knowledge. Also important is tradition and culture, since clearly there are broadly standardized speech "formulas" / norms of good conduct, for how to appropriately perform these "functional language use" tasks, such as commiserating with a bereaved person, for example. The best way to master these everyday communicative functions (which is key to doing well in the exam, as well as in real life) is to practice with your expert tutor, doing simulations and role-playing.
Now please be aware that this blog post will, of necessity, have a somewhat weird look to it.  This is because we are now going to list (in abbreviated form, in English) the DELE functional language use tasks – doing so under the same headings as used in the original curriculum document.  Remember, this serves as an introduction, to give you a feel for the scope and nature of what is required (and, if you still labor under any illusion that the DELE's curriculum is all about learning the rules of Spanish grammar and spelling, to disabuse you of that notion). For set 1, we will give some examples (as contained in the actual curriculum document) to illustrate what is meant under each function.
DELE Curriculum Level B: THE "FUNCTIONAL LANGUAGE USES" YOU NEED TO MASTER, LISTED
 Set #1: Ask and give information:
identify; (example: ¿Quién es la hermana de Raquel?]
-La (chica) morena que está hablando con Pablo. Who is Raquel's sister? The brown-skinned girl talking to Paul);
ask for information (¿Sabes si / dónde / cómo…?  ¿Sabes cómo se hace la sopa de marisco? ¿Puedes / Podrías decirme si / dónde / cómo…?  Por favor, ¿puede decirme dónde está la estación?);
give information;
then request confirmation.
 Set #2: Express opinions:
ask an opinion;
give an opinion;
ask for valorisation;
offer valorisation;
express approval and disapproval;
position yourself in favor or against;
ask if your interlocutor is in agreement;
express agreement;
express disagreement;
demonstrate scepticism;
present a counter-argument;
express certainty and provide proof;
express lack of certainty and demand proof;
invite to formulate an hypothesis;
express possibility;
express obligation and necessity;
express lack of obligation and necessity;
ask about knowledge of something;
express knowledge of something;
express own lack of knowledge;
ask about the ability to do something;
express your ability to do something;
ask if interlocutor remembers or has forgotten;
express that you remember;
express that you have forgotten.
 Set #3: Express preferences, desires and wishes:
ask about tastes and interests;
express tastes and interests;
express aversion; ask about preferences;
express preferences;
express indifference or absence of preference;
ask about desires;
express a desire;
ask about plans and intentions;
express plans and intentions;
ask about state of mind;
express joy and satisfaction;
express sadness and sorrow;
express pleasure and happiness;
express boredom;
express satiety;
express anger and indignation;
express fear, anxiety and preoccupation;
express nervousness;
express empathy;
express relief;
express hope;
express deception;
express resignation;
express repentance;
express embarrassment;
express surprise and longing;
express admiration and pride;
express affection;
express physical sensations.
 Set $4: Influence the interlocutor:
give an order or instruction;
ask a favor;
ask for an object;
ask for help;
plead;
repeat an earlier order;
respond to an order,
petition;
ask permission;
give permission;
deny permission;
prohibit;
reject a prohibition;
propose and suggest;
offer and invite;
ask for confirmation of an earlier proposal;
accept a proposal,
offer a proposal;
reject a proposal,
offer an invitation;
counsel someone;
warn;
menace (only B2);
reproach;
promise and commit yourself;
offer to do something;
calm and console.
 Set #5: Relate socially:
greet;
return a greeting;
direct yourself at someone;
present yourself to someone;
respond to a presentation;
ask about the necessity for a presentation;
solicit to be presented;
welcome someone;
respond to a welcome;
excuse yourself;
respond to an excusing;
thank someone;
respond to thanks;
present your sympathies/condolences;
propose a toast;
congratulate;
express good wishes;
respond to congratulations and good wishes;
pass on greetings, wishes for better health;
respond to being wished;
take leave of.
 Set #6: Structure a discourse:
establish the communication or react to communication being established;
greet and respond to a greeting, ask about someone and respond to such a query;
ask for an extension and respond to such a request;
ask if you can leave a message;
ask how things are going, and respond;
request to start relating something and respond;
introduce the theme for relating something and react;
indicate that you are following the telling with interest;
attract the attention of the speaker;
introduce something into the conversation;
organize the information;
reformulate what was said;
highlight an element;
quote;
open a digression;
close a digression;
reject a theme or an aspect of the theme;
interrupt;
indicate that the conversation may be resumed;
ask of someone to keep quiet;
concede the floor to someone;
indicate that you wish to continue the discussion;
conclude a narration;
introduce a new theme;
propose closure;
accept closure;
reject closure and inject a new theme.
As promised, here is the link to this particular section in the original DELE B-level curriculum document:
http://cvc.cervantes.es/ensenanza/biblioteca_ele/plan_curricular/niveles/05_funciones_inventario_b1-b2.htm
For levels A and B, the respective links are:
http://cvc.cervantes.es/ensenanza/biblioteca_ele/plan_curricular/niveles/05_funciones_inventario_a1-a2.htm
http://cvc.cervantes.es/ensenanza/biblioteca_ele/plan_curricular/niveles/05_funciones_inventario_c1-c2.htm
I hope that this blog post has given you at least a feel for what this very, very important component of the DELE curriculum is all about.  Keep an eye on our blog; as indicated, we will be posting new segments in this series that will eventually cover all of the components of the curriculum.
REQUEST OUR FREE WORKBOOK:
Please keep in mind our FREE OFFER of our 96-page Workbook #9.2 (DELE / SIELE exam orientation & acing tips) which you can have absolutely gratis and with no obligation, simply be sending us a request via our convenient contact form (just click on the image above). This unique free DELE / SIELE exam preparation book covers all aspects relating to the goals, format and curriculum of the DELE system, plus battle-tested tips for preparing yourself to ace the DELE exam.
CHECK OUT OUR DELEHELP YOUTUBE CHANNEL:

This is the link to our channel: https://www.youtube.com/channel/UCSvCNnuilLmt4pRwxY8NE7g/videos
FREE EXPLORATORY ONE-HOUR SKYPE CONVERSATION ABOUT YOUR EXAM:
Don't miss out either on our other free offer, which is an exploratory one-hour Skype session with myself, in English, explaining the intricacies of these exams and answering your questions – you can make use of these offers with no obligation on you to eventually sign up for coaching.
Best of luck with your exam preparation!
Salu2
Willem