UNDERSTAND HOW YOUR SPANISH EXAM IS SCORED (OPI DELE SIELE)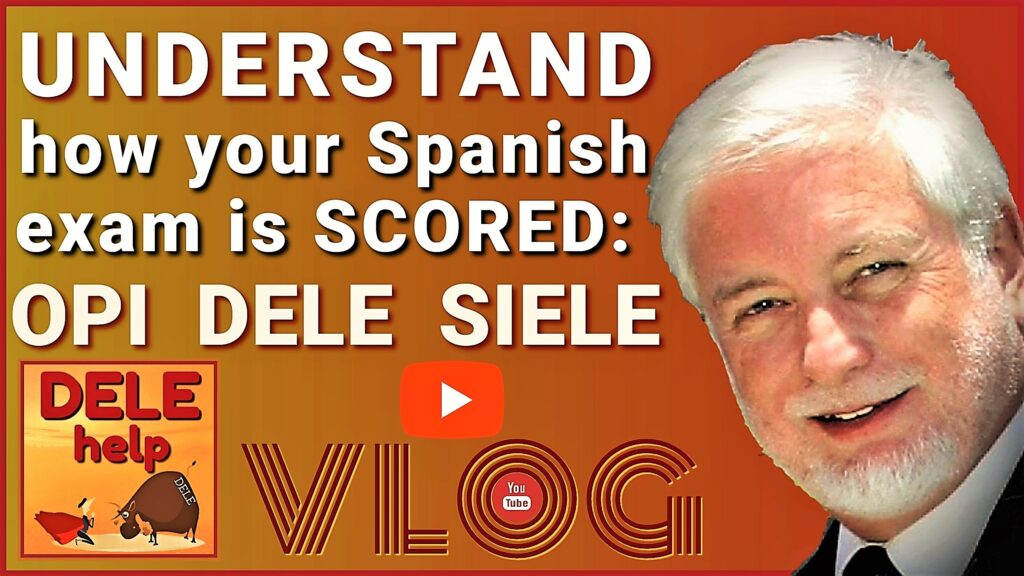 CHECK OUT THE NEW DELEHELP YOUTUBE CHANNEL
Great news! We have started a new DELEhelp channel on YouTube!
You can see its 90-second trailer by clicking on this link:
https://www.youtube.com/watch?v=1nN9vbBai5U
FIRST VIDEO LECTURE UPLOADED: UNDERSTAND HOW YOUR EXAM IS SCORED
The first video lecture we've uploaded, deals with an element that's critically important to your effective preparation for your Spanish exam. You need to know what your examiners want (kind of like: "know thy enemy"). The first video, which we will briefly discuss in this post, therefore deals with the assessment criteria and the scoring system that your examiners will be applying. This video lecture of some 25 minutes, in English, will explain the system and criteria in further detail, to help you understand how your Spanish exam is scored. You can see the video lecture by clicking on the image above, or on this link:
https://www.youtube.com/watch?v=aELQ6XFeJic
Spanish language exams such as the OPI, DELE and SIELE are tests of so-called "communicative competency". In other words, a new kind of "CAN DO" test, that's very different from your typical school or college language exam. These modern Spanish language exams test actual, real-life ability to communicate effectively, in real-world situations. All of these exams are based on the same principles, embodied in a policy document called the "Common European Framework of Reference for Languages".
If you want to do well in any of these exams of "communicative competency", it is critically important that you understand how your Spanish exam is scored – in other words, what the examiners are expecting of you, the candidate. Because, if you are going to prepare for these exams in a similar way as you had prepared for school or college language exams of old, then you will not be delivering what these examiners are looking for.
In brief, a language exam of your "communicative competency" in Spanish, is a test of your practical ability to use the language to competently communicate in everyday situations. Much more than merely testing your abstract / theoretical knowledge of the "rules" and the lexicon of Spanish, it tests your four "can do" skills, thus what you actually are able to accomplish in situations where you have to apply that knowledge, such as when you need to engage in proper two-way communication, whether orally or in writing.
The four linguistic skills that these exams test, are grouped into two components: comprehension and expression. Do you understand what you read and what you hear? (i.e., your reading and listening comprehension skills) plus, can you make yourself understood, when you speak and when you write? (oral expression and expression in writing)?
The examiners, therefore, employ practical assessment criteria that are very different from the academic criteria applied in school and college, when they evaluate your performance. They also apply a distinctive scoring system. To do well in such an exam, candidates have to know and understand these assessment criteria and scoring system, because that is the foundation for grasping what the examiners are actually looking for.
It is these assessment criteria and scoring system which our Dr Willem Steenkamp explains in detail in this vlog-post's 25-minute video lecture. They represent the keys to what the examiners want of you in your Spanish "exam of communicative competency". You can access this video lecture on our YouTube channel by simply clicking on this link: https://www.youtube.com/watch?v=aELQ6XFeJic
We have already uploaded a number of other important exam prep video lectures as well, which you can access when you visit our new channel. Videos such as: how to ace your reading and listening comprehension tests, and how best to prepare for the crucial oral exam (by knowing how our human brains actually go about the process of acquiring a new language). Again, you can easily access the channel by checking out this trailer video – simply click on the image below:
To get notified of new video releases, please SUBSCRIBE to our channel, and kindly consider giving the videos a thumbs-up "like", if you find them valuable – that way, more students will be guided to them by YouTube's algorithm.
TRY OUR FREE OPI DELE SIELE EXAM PREP WORKBOOKS
Please don't forget that you can also ask for our free, no-obligation DELE/SIELE or OPIc exam prep workbooks, by simply clicking on the image below and filling in the convenient request form.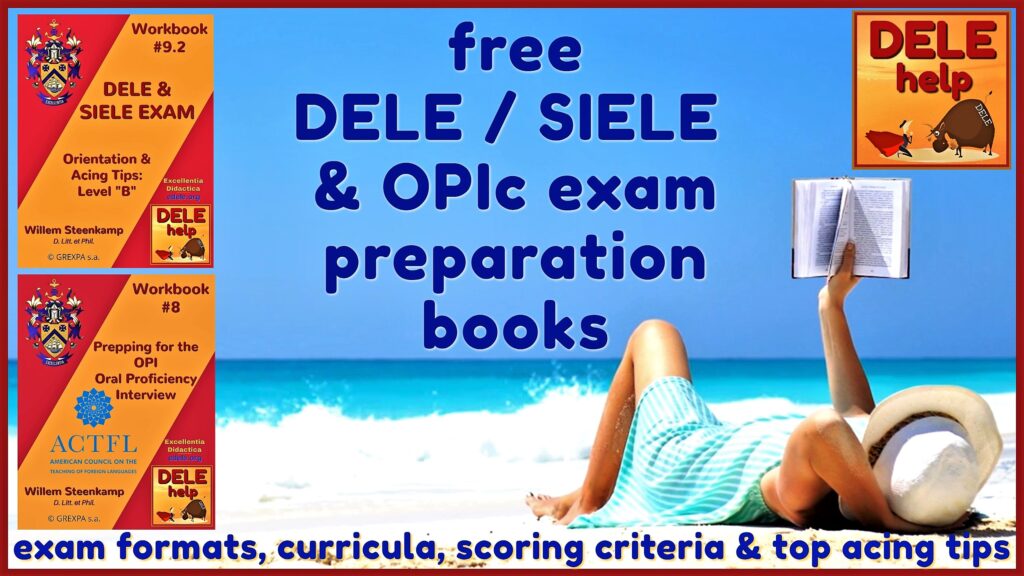 DON'T FORGET OUR PREVIOUS BLOG POSTS ON THIS THEME
Remember also to check our previous DELEhelp blog posts about how these exams are assessed and scored, if you prefer to READ rather than watch a video lecture about the topic. Here are links to some such posts (click on the images, to open the individual posts):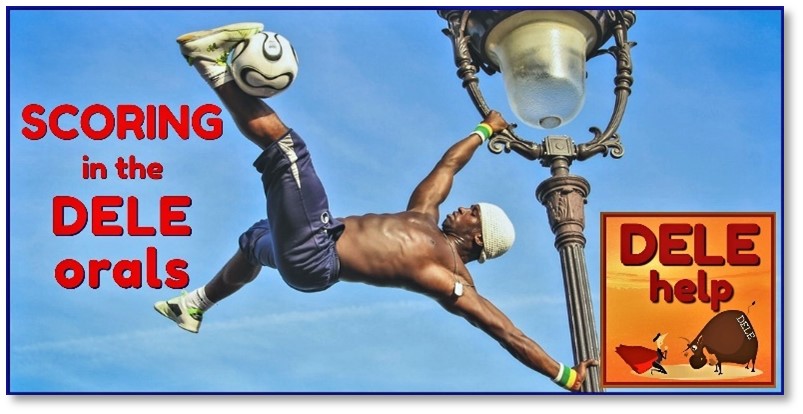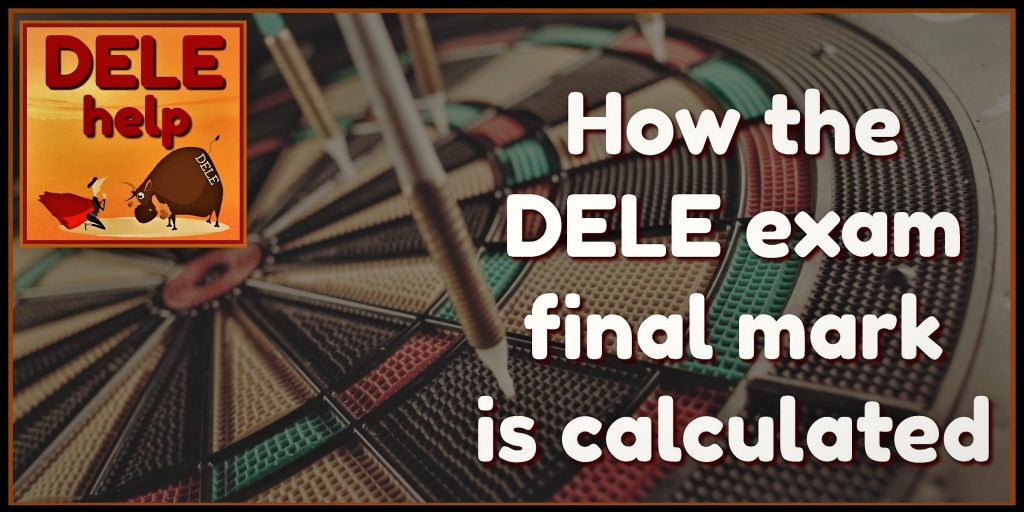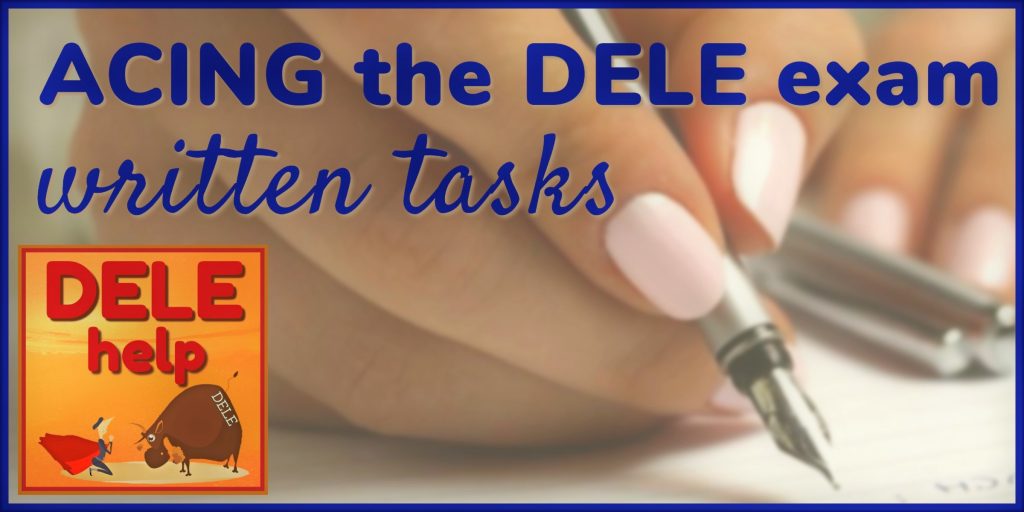 OUR WEB-SITE HAS MORE INFO ABOUT OUR ONLINE COACHING
Last but not least – we remain at your disposal, if you feel that you could benefit from our personalized, 1-on-1 online coaching to help you prep for your Spanish exam. You can check out our web-site by clicking on the image below (which resembles our landing page) and then click on the "DELEhelp" button – which will take you directly to the sub-page of our specialised DELE SIELE OPIc exam prep division.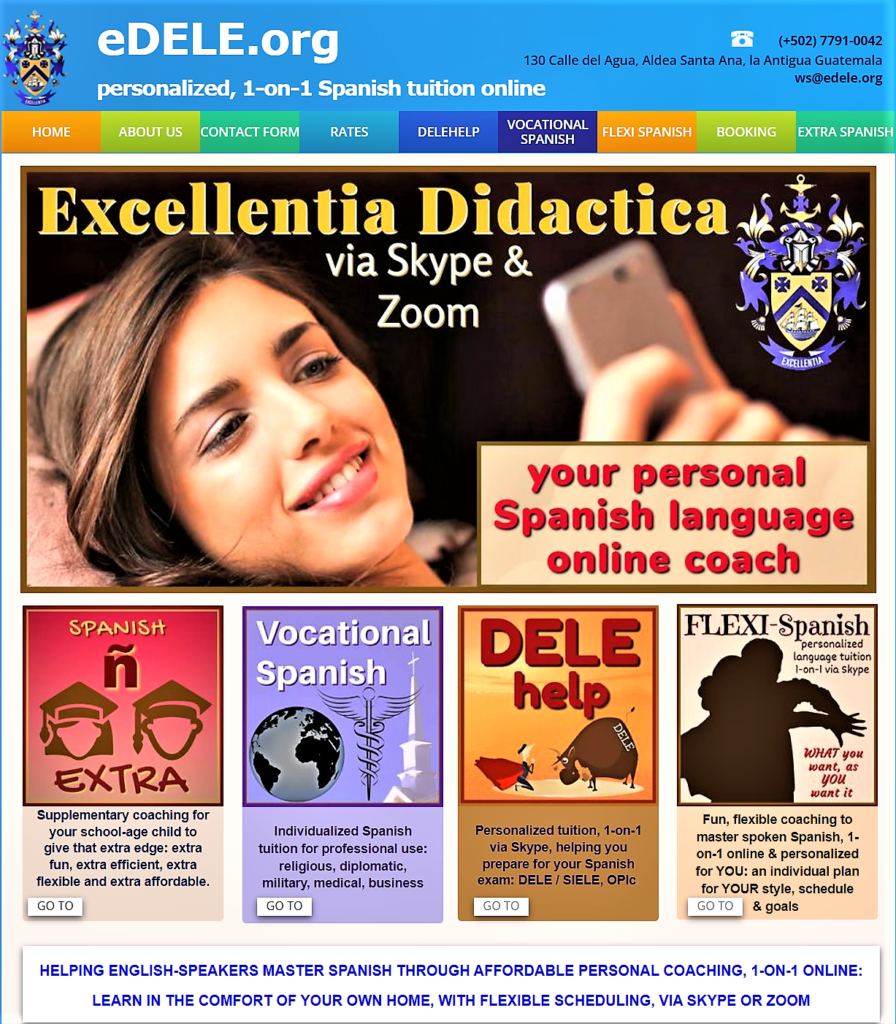 I hope that the video lecture associated with this post has helped you to better understand how your Spanish exam is scored, and that – with that knowledge – yours will be a case of "forewarned is forearmed".
Buena suerte with your preparations!
Salu2
Willem Steenkamp