ONLINE COACHING FOR DELE/SIELE & OPI
Our online coaching for DELE/SIELE & OPI exams of Spanish language ability is based on the fact that these are "can do" exams, not tests of abstract academic knowledge. Effective online tutoring that truly helps students, 1-on-1 with their exam preparation, requires special coaching methods which are very different to traditional classroom teaching.
Such coaching must be founded on a well-designed, personalized study plan for each individual student. This needs to be based on a proper initial diagnostic of each individual's existing level, unique learning preferences and strengths & weaknesses. Done this way, our expert 1-on-1 exam prep coaching is much more effective than taking group classes at a residential school, where the lowest common denominator often drags everyone down and where there is very little opportunity for what is truly essential in any skill development: practice, practice and yet more PRACTICE.
Furthermore, enjoying such personal coaching via Skype in the comfort of your own home, is a lot more convenient, as well as time and cost-effective than attending group classes. But you probably know that already. What you likely want to know, is what (i.t.o. resources) you will be receiving from us, if you should choose DELEhelp to tutor you via Skype, and how (i.t.o. methodology) we will be going about it. Those are the fundamental questions that we want to answer with this blog-post.
1.

THE ISSUES WE WILL ADDRESS IN THIS POST:
Defining our shared Objectives
Recognizing the Challenges
The Exam Components
Mind-set
Methodology: OBL / CLT/ Lexical Approach / Suggestopedia
Lexis: Phrases, collocations, expressions and Vocabulary
Pronunciation
Correct Grammar & Spelling
Exam Simulation
2.

DEFINING THE OBJECTIVES
2.1 You need a Personalized Study Plan
At DELEhelp, our individualized online coaching for DELE/SIELE & OPI has a single focus. It is to help the unique you (i.e., not a group class full of students) to pass your chosen exam.
To achieve this, we first have to develop a personalized study plan, based on your individual needs and learning preferences. People do not have the exact same aptitude for language learning. Personal preferences differ, when it comes to study methods – for example, between those who thrive on structured grammar and those who hate it. Candidates also don't have the same level of competency in Spanish to begin with. Their respective strengths and weaknesses vary significantly, as far as what they happen to already know (or not know). Equally, and very importantly, there are differences between individuals as to which communicative skill sets they already have mastered.
The four skills are fundamental to everyday communication, and therefore to the goals of these exams – because these exams, just like real life, revolve around the ability to fluently and coherently apply your knowledge in everyday, practical communication settings. Therefore, doing a proper initial diagnostic and developing a personalized study plan for each candidate is absolutely essential (which explains why group classes usually are not optimal for students preparing for these exams).
To arrive at a well-founded individual study plan, we first have to diagnose your current strengths and weaknesses, plus your aptitudes and preferences. By strengths and weaknesses, we don't mean only what you do (or don't) yet know. We primarily need to test what you can do, because these exams are a very practical assessment of your competency at communication in real-world situations. We therefore have to test your ability to apply your knowledge, and measure your skill at all four task fields, namely reading and listening comprehension, plus oral and written expression.  We will, during the first weeks, test your competency at actually communicating in Spanish, with reference to correctness, fluency, coherence, and a sufficiently ample linguistic scope (these four elements in bold, are the typical assessment criteria used by the examiners).
Once we have established what you know and can do, we then have to match that with what the curriculum for your chosen exam level requires of you to know and be able to do. In this way, we identify your individual knowledge and skills shortcomings, which we then have to address with a personalized plan of learning activities and skills coaching. This plan is constantly updated i.t.o.  your progress, which we continuously measure during the Skype sessions, as well as by means of regular mock exams (which also familiarize you with your exam's format). This study plan also needs to flexibly fit around your practical constraints as well, such as the study time you have available and your budget.
We will NOT try and make you fit into some boilerplate "package plan" based on a one-size-fits-all syllabus.
2.2       What you need to know about your exam's format and goals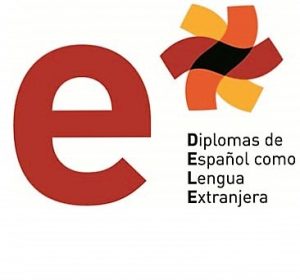 Our shared objective is to develop your real-world proficiency at actually communicating in Spanish, so that you can pass your chosen exam. But how will this proficiency be tested in the exam? What kind of exam is the DELE, the SIELE or the OPI? What does your exam aim to assess, what tasks does it consist of, and how is it scored?
What is needed at the outset, is to ensure that you have a proper understanding of the goals and nature of these exams of communicative competency, which are all now based (whether European or American) on the CEFR – the Common European Framework of Reference for Languages). Again, they are by nature very different from typical school or college language exams. Only once you know exactly what is required, and how your efforts will be scored, can we then take careful aim at those aspects of Spanish everyday usage which your diagnostics show you haven't yet sufficiently mastered. (For a fuller discussion of how a personalized study plan is drawn up, please see our DELEhelp Blog-post below (click on the image to have the post open in a new window):
What we won't be doing, is to over-emphasize school-style formal teaching of Spanish, because neither these exams nor the everyday communicative challenges encountered in real life are directly concerned with abstract knowledge of grammar – nobody in either the exam or in real life is ever going to ask you to recite conjugation tables. In any event, school or college-style tuition is notoriously inefficient at developing conversational ability – according to statistics from the ACTFL (American Council on the Teaching of Foreign Languages) only 0.5% of US students who majored in a foreign language, can maintain a conversation in the new language, at the end of their regular studies. (For more information on how the human brain processes patterns in order to acquire language, please see our DELEhelp Blog-post: "Learn to Converse in Spanish"):
The foregoing doesn't mean that you can get by without having internalized the patterns of Spanish (grammar is just a handy cram sheet of those patterns). What is essential is the correct mind-set. One has to understand that the objective is to develop the skill to communicate, to which end grammar does serve as a handy tool facilitating the identification and comprehension of the patterns you need to be able to apply; knowing the rules of Spanish grammar by heart, however, is not the end goal, in and of itself.
We also assume, since you are enrolling for one of these exams, that you already have some basic Spanish schooling under your belt – we are therefore not going to be presenting you with a generalized beginner's course (unless you are aiming for Level A1, por supuesto). Our interventions will, instead, be focused on sharpening your proficiency at actually communicating in Spanish. We will be targeting your specific needs and weaknesses according to the individualized program of tutoring we've drawn up, after a thorough diagnosis.
The principal objective with our online coaching for DELE/SIELE &OPI will be to help you to internalize, through guided practice, the lexis and the patterns of Spanish (lexis being its words and "word chunks" or collocations, plus expressions, with the patterns being the syntax and morphology of Spanish).
However, comprehensible communication obviously is not enabled merely by knowing the right words and phrases, in terms of merely knowing their individual meaning (as important as such knowledge of semantics undoubtedly is). Comprehensible communication also requires intelligible pronunciation as well as the syntactically and morphologically correct use of the strings of words (i.e., sentences) that you speak and write.
It bears stressing again that grammar, in this context, must be seen as a useful tool, and not the be-all and end-all of "learning Spanish".  Knowledge of grammar is, in reality, just a shortcut to identifying and internalizing the all-important patterns of the language. It is these patterns that you have to "get to own", to the point of reflexively applying them without having to consciously think (which is what we mean by internalize).
The objective is to develop your ability to instantly and without conscious, calculating effort, roll out the correct phrases and combinations that will convey your message (just as you constantly do in your native tongue, without even thinking about grammar). It is a question of the right mental attitude: your overriding goal (even when learning grammar) must always be to develop the ability to converse in Spanish – that is, not merely to know the rules of Spanish grammar, but to be able to apply them. Life is all about the skill of APPLYING knowledge, not merely about possessing abstract knowledge; this is the proficiency that's fundamental to these exams as well.
In essence, we will be concentrating on assisting you to develop and improve your Spanish communication skills. This means that, during the Skype sessions, we will primarily be concentrating on guided conversation practice – firstly, because in the case of the DELE for example, it is statistically proven that the oral section causes 70% of the students who end up failing the exam, to have failed. Secondly, we focus on conversation sessions because conversation is the one skill that is difficult for you to practice alone at home. Thirdly, targeted conversation shows up any weaknesses in your overall preparation through the lexical or grammatical mistakes you make, which can then be clarified and corrected on the spot. We also believe in the value of doing regular mock exams, to familiarize you with the typical format, but also to use as an ongoing diagnostic tool, so that we can constantly adapt your personal program as needed.
Our task is to get you to be confident and comfortable in your own skin when communicating in Spanish, so that you may do so coherently, correctly and fluently. To achieve this, we have to help you to gain confidence and overcome the natural inhibitions associated with fear of making mistakes in front of others, through the application of some basic principles of teaching psychology (about which, there will be more detail later). These principles of de-suggestion (Suggestopedia) we integrate with the broad modern pedagogical approaches known as Outcome-based, Task-based or Content-based learning, plus Communicative Language Teaching and the Lexical Approach – as will be explained in sub-section 6.
3.  

RECOGNIZING THE CHALLENGES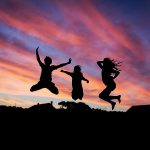 It is common wisdom that, whether it is a child or an adult that's acquiring a new language, the end objective is the same (namely, to be able to communicate, primarily through conversation).  Evidently, though, there exist practical differences in the circumstances of adults and children when acquiring a language, that are important to realize i.t.o. understanding and meeting the challenges.
In many ways, adults are better positioned to acquire a new language, than toddlers. Adults enjoy definite advantages – such as, for example, having the ability to read. In addition, there are many learning tools adults can access, such as books, audio and video, flashcards and interactive computer programs, which permit intense bursts of immersion. There's also tuition, plus the availability of grammar handbooks that identify and explain the patterns of morphology (how words are morphed, such as through verb conjugation, to signify different meaning) and syntax (how sentences are put together). Adults, therefore, are not limited to acquiring these patterns just from speech that they randomly hear in their environment, as kids are obliged to do.
Nevertheless, kids have one great overriding advantage: they can devote at least six years of almost exclusive mental focus to the basic process of developing language proficiency, because their every other need is being taken care of (and their brains are, at that age, optimally receptive to language). Very few, if any, adults enjoy the luxury of so much time and focus! Can you imagine how good your Spanish would be if you had six years of total, exclusively focused immersion, as a child would have? Put differently, if you study 10 hours a week for a whole year, you've only done around 40 days, when considering only waken hours.
Yet we as adults typically want to acquire a new language in the briefest of time, while still attending to all our other priorities (the American Council on the Teaching of Foreign Languages calculate that a student with above-average aptitude will require 720 hours of the intensive kind of language training that diplomats undergo at the Foreign Service Institute (i.e., full day and freed up from other work obligations), to reach the kind of professional-level proficiency at conversation that diplomats, for example, would require).
Furthermore, kids don't suffer the barrier of inhibition, which in most adults stifles the very essential willingness to open their mouths and practice.
When adults learn a foreign language, they typically progress through stages – first acquiring the ability to read it, secondly to being able to listen and follow the spoken word, thirdly being able to speak, and lastly to write to native standard. For these exams (as for real life) all four of these skill sets have to be mastered – except of course if you're only doing the OPI as such, or the SIELE S4, which are limited to just the oral skill.  The main challenges to communicating effectively, fluently and confidently in Spanish as foreign language can be summed up as being, on the comprehension side:
Establishing a sufficiently ample lexis (vocabulary plus collocations and expressions) as well as knowledge of the syntactical and morphological patterns of the language, to enable you to understand the meaning of what you are reading or hearing;
Attuning your ear to enable you to correctly capture and differentiate the words and phrases that others are saying; and
on the side of expressing yourself orally and in writing:
Getting your tongue and mouth accustomed to forming sounds the Latin way, to enable you to pronounce intelligibly;
Developing a sufficiently ample linguistic scope in Spanish (lexis) so that the right words and phrases come to you with ease; and
Internalizing the patterns of Spanish morphology and syntax, so that you can reflexively string together words in the correct configuration, when conducting a conversation.
To meet these overt challenges just mentioned, some important innate ones also have to be overcome:
We have to help you undo unilingual rigidity (particularly for those who don't yet speak any foreign tongue) because this restricts mouth movement, body language and conversational mental agility. This rigidity, which is a very important hindrance to acquiring proficiency in a foreign language, stems from inhibitions related to our adult ego-awareness, and from lifelong conditioning and casting in one cultural/linguistic mode. It negatively impacts ability to pronounce correctly, and also inhibits the ability to recognize and mentally "own" the lexical and grammatical patterns of Spanish, especially where these patterns differ from that which the student is used to in native English;
In parallel with overcoming unilingual rigidity, we need to assist you in developing your own confident, uninhibited Spanish-speaking "alter-ego" – this new parallel persona needs to have a correctly-attuned mind and flexible tongue/mouth and body language; and
As with any distinct type of exam, there is the challenge of building confidence for the exam itself by knowing what to expect of your chosen exam, how to approach it (i.t.o. your lead-up preparation, as well as on exam day itself) and being well orientated about its typical setting, format, sequence of tasks, and the practical do's and don'ts.
4.  

THE "FOUR SKILLS" AS EXAM COMPONENTS
The modern exams of communicative competency are designed to test different levels of proficiency at everyday communication skills, encompassing comprehension of the written and spoken word, plus the ability to express oneself intelligibly and coherently in Spanish, both in writing and in conversation. It thus includes audio listening elements (to test comprehension of meaning, accents, vocabulary etc.), written tasks (hand-written as well as multiple choice papers) plus oral presentation / conversation.  The length of time allocated to each component varies for the different levels.  Rather than re-inventing the wheel by writing up our own version of each level's requirements, we prefer to direct you straight to the original sources:
NB: When you sign up with DELEhelp for our online coaching for DELE/SIELE & OPI, you will be provided with our free in-house Workbooks for your particular exam and level.  Our e-book #9, for example, is titled DELE / SIELE Exam Orientation and Acing Tips.  In its some 96 pages you will find detailed guidance about the exams and how to prepare yourself for presenting your knowledge and skills to best advantage.  If you are aiming to do the OPI / OPIc, then you will receive our e-book #8, which is aimed specifically at that test. You will also receive the entire series of our Workbooks, all in English, which are all free for our registered students, covering topics such as vocabulary / cognate words, expressions and idioms, the history of Spanish, plus a very popular one, WB#2, called De-Mystifying Spanish Grammar which relates Spanish to the grammatical reference framework with which students are already familiar, namely that of English.
Even if you're not registered as a student, but want to check out our materials, you can make use of our FREE, NO OBLIGATION OFFER of our e-books 8 & 9 covering the OPI/OPIc and the DELE/SIELE, by simply asking for the download links, using our easy contact info form – just click on the images below to contact us:
5. 

 THE MIND-SET TO ADOPT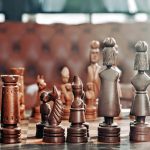 Before we address the didactic methods available for coaching in preparation for these exams, it is important to stress once again that the candidate's own mind-set regarding mastering Spanish is pivotal.  Exam preparation is firstly a question of self-improvement, of self-study. No spoon feeding. What is at issue, is developing yourself psychologically, intellectually and in terms of practical, physical performance skills – expanding your existing communicative persona as based on your mother tongue, by adding an additional, parallel identity: the new Spanish-speaking you.
One's mother tongue is perhaps the most definitive expression of one's culture.  It is of such importance in the life of individuals and societies that the way we speak it, seriously type-casts us: as nationals of given countries, natives of particular places, members of a given social strata.
To function effectively as communication medium for any given society, language requires a high level of conformity within that group. Language is a code, and like any code it must be shared with exactness and precision, in order to unlock the same meaning. Individuals cannot freely construct phrases and pronounce words to their own whim or delight, and hope to be clearly understood.   Therefore, in our formative early childhood, we are conditioned to conform to the communication parameters of our family's peer group – their language use, their way of pronouncing (such as in regional dialects or class-based speech), even to types of body language. This is the reality of societal conditioning, which underpins the hurdle of unilingual rigidity.
As Steven Pinker and like-minded researchers have shown, up to the age of six a child instinctively acquires its mother tongue from its immediate environment – just as a spider has the innate skill and instinct to spin webs, our species has this instinct as our particular "thing" (together with the ability to walk upright, of course). There is strong proof that our species is genetically "wired" to acquire (as opposed to abstractly learn) the ability to communicate in the mother tongue, with adaptations of the brain that facilitate this acquisition as the uppermost developmental priority, up to the age of six.  Thereafter (unfortunately) the brain has to start allocating resources to other priorities and consequently the learning of another language can get crowded out – even though the latest neuroscience has shown that our brains process language acquisition exactly the same, whether it's 1st or 2nd language, or as adults or toddlers.
It is also important to understand that what the young child acquires is the skill to communicate, rather than merely abstract "knowledge" about the features of a particular language – definitely without yet consciously being able to describe its grammar "rules", for example (even though they can apply the patterns).  Communicating also requires skill at using one's articulation tools to form sounds. Styles of pronunciation are therefore also fixed in childhood, so as to conform to the accent or dialect of one's peer group (a quick aside – a respected linguist once defined the difference between a "dialect" and a "language" as being merely that the speakers of the latter possessed an army and a navy, meaning that they could enforce the official supremacy of their dialect, over those of other groups…).
From very early childhood, as part of this human quest for conformity, we accustom ourselves to our own language or dialect's accent – its particular "mouth gymnastics". We also learn to conform to its socially acceptable customs of non-verbal communication (for example, British "stiff upper lip" versus "Latin exuberance") in body language. Then – from the beginning of formal schooling – we are drilled to conform to the written character sets of our language, abiding by its rules of spelling.
Understandably, because conforming is of such importance, our particular communication mode quickly tends to become a rigid fix, with the tongue and jaw seemingly inhibited from forming sounds at variance with the mother-tongue pattern. Without re-conditioning, the mind also seems incapable of according "non-conforming" sound values to the familiar letters of our alphabet that we see when reading – even if reading a foreign language.
To compound matters, our equally highly conditioned ears seem reluctant to differentiate and de-code unfamiliar sounds reaching them.  Worse still, when we listen to our own speech, our hearing tends to selectively "hear" only the sounds that we ourselves had mentally intended to form. We do not register accurately the actual sound (often highly mutilated by our stubborn jaws and tongues) that in fact escape from our mouths; this is why we have to use a recording device and record ourselves when practicing, so as to re-listen, in order to be fully aware of our own shortcomings in pronunciation.
We are also inhibited by our fragile adult ego. We are o-so-afraid of making fools of ourselves in public. And what more revealing way to demonstrate "foolishness" than to incorrectly speak someone else's language?
It therefore stands to reason that, in order to speak Spanish like a "native", we have to first acquire the right mind-set. We have to be willing to "go native". Then, we have to consciously re-accustom our minds, jaws, faces, tongues, hands – everything we are – to the demands of an additional cultural identity; in essence constructing an "alter-ego" for ourselves that's "native" to Spanish culture and to whom the grammatical constructs, tongue gymnastics and body language inherent to speaking Spanish "natively" will thus come naturally, without embarrassment or ego interference.
6.  

METHODOLOGY –

TBL / OBL / CLT , the Lexical Approach & Suggestopedia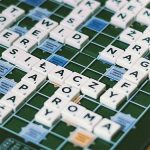 In dealing with methods of tutoring and exam preparation, it would be easy to fall here into the trap of academically discussing all the theories that are nowadays proffered about learning. There's a plethora of "methods" out there today, with so many acronyms it looks like a Scrabble board.
Please rest assured – that is not what we're about to do here.  We want to introduce a practical, common-sense approach to addressing the challenges that we identified earlier, always keeping in mind the need for personalization.  We're not into absolutizing any given method (in most instances, these modern methods seem quite similar, just with different names depending on where and with whom they originated). With us, your online coaching will therefore be driven by you and your unique needs, not by some methodological dictate, as often happens in school systems.
There are, however, common denominators that we have to take note of in most of the methods that are now in vogue, whether they be called task-based learning (TBL), or outcome-based learning (OBL), or content-based learning. They all have in common that students need be assisted to acquire the skill to apply knowledge – not just to know, but to be able to actually do. This is the essence of the common European approach to learning adopted in 2005, known as the Bologna Process, which defines qualifications "in terms of learning outcomes", with emphasis on the "importance of performance". Such performance relates to "what students know and can do" when they finish their course. You will by now be very aware that these exams share this common European approach, and therefore are strongly focused on testing competency at actual communication.
Task or outcome-based education originated from a behaviorist approach to teaching. It ties in, in the sphere of language training, with one of the other modern methods known as Communicative Language Teaching (CLT). This method came about thanks to a recognition of the limitations of traditional teaching methods. A study by the University of Illinois found that "students who were taught communicatively fared no worse on grammatical tests than students that had been taught with traditional methods, but they performed significantly better in tests of communicative ability."
In recent years CLT has become more refined, through Task-Based Language Learning (TBLL).  In TBLL the emphasis is on the successful completion of tasks; the students' efforts are then marked, which allows for regular progress assessment to be conducted.
In our experience at DELEhelp, the best practical approach to selecting an appropriate teaching methodology for each student is a two-track one. Firstly, we have to stay true to our maxim of personalization, dependent on the unique knowledge and skill levels, plus distinct aptitudes and learning preferences of each individual student. Secondly, one has to be guided by the reality that these exams are structured as outcome / performance based, communicative competency tests. Since this is the way the exam is set up, we evidently need to adhere to the same task or outcome based, communicative approach, with emphasis on developing proficiency at performing real-world communication tasks.
At DELEhelp, you will be assigned at least two tutors – one who is native English speaking (with a C2 level of Spanish), for explaining challenging concepts in English and to allow you to put your questions in your own tongue. The other tutor is native Spanish-speaking (but with a good working knowledge of English) to assist you with pronunciation and Spanish lexis and grammar in general, as well with your communicative skills development. For the frequent simulations of the oral exams, you will encounter some of our other tutors who will act as the interviewing examiner, to simulate the exam situation where you have to face an unfamiliar figure.
What is somewhat unique about us, is that we approach the exam prep assistance from the student's perspective – thanks to the fact that I myself, (the Director of Studies of DELEhelp), had to pass the DELE exam, at the highest C2 level. It is truly a case of "been there, done it", with therefore a very clear and practical understanding of what kind of help the English-speaking student needs in order to succeed.
To help you come to grips with the patterns of Spanish more easily and quickly, our in-house workbooks (which are in English), purposely set out to relate the Spanish constructs to the linguistic framework you are most familiar with, namely English.
In the course of our online exam prep tutoring, we focus on:
the typical tasks set in these exams (reading and listening comprehension, plus oral and written expression);
regularly assessing progress by means of exam simulations using model exams and the actual scoring criteria (which also serve to familiarize you and provide practical experience); and
using our Skype interface time primarily for those aspects of preparation that a student cannot do at home, such as practicing conversational fluency (during which we can immediately address any problems regarding correctness of grammar, lexis and pronunciation). The Skype interface time also serves for providing feed-back on self-study tasks the student has submitted.
At the beginner levels in particular, we do of neccessity incorporate grammar exercises in the tuition (as a handy shortcut to learning the patterns of the language, not as a goal in itself).
In all study plans we stress the importance of self-study: for every hour of formal tuition via Skype, there should typically be at least two hours of guided active self-study, plus as many hours as possible of passive immersion.  By the latter we mean, for example, having talk radio or TV running in the background throughout as much of your day as possible, and doing as much leisure reading in Spanish as you can fit into your daily routine.  The active self-study consists of doing set tasks (yes, homework) to improve the comprehension and expression skill sets being tested in these exams, plus working on your vocabulary and lexis flashcards. We will expand on this a bit later, but to complete this introduction of methodologies, we need to present a solution for the adult ego problem – with a method that has been proven to work for many learners of a second language, particularly at beginner level.
In the 1970's the Bulgarian psychotherapist Georgi Lozanov developed a teaching method which he called suggestopedia.  This method was validated in 1978 by a special working group of the UN's educational arm, UNESCO, whose formal finding was: "There is consensus that Suggestopedia is a generally superior teaching method for many subjects and for many types of students, compared with traditional methods."
Suggestopedia was proven to be particularly useful in the learning of a second language. It is based on the idea that people, as they grow older, are inhibited in their language learning by the unilingual rigidity we mentioned earlier. They instinctively try to force the new language into the communicative mold of their mother tongue – whether in relation to pronunciation, or to grammatical structure. To escape this tendency, the student needs to approach the new language with a clean mental slate; he or she needs to adapt to the new language and its conventions, rather than trying to adapt that language to their own pre-existing way of using rheir communication tools. It is, of course, not easy to transform oneself culturally, because sense of identity is so strong and valuable – the "suggestopedic" trick lies in creating a parallel persona for tackling the new language, free of inhibitions of ego or prior conformisms.
Lozanov said that students need to feel confident and relaxed and their psychological barriers must be "de-suggested". Since the 1970's, significant development of these principles has taken place and been published under names such as SALT (Suggestive Accelerated Learning and Teaching) and Superlearning.
Pure Suggestopedia as well as its derivatives are mostly orientated to classroom/group teaching, not to our one-on-one online tutorials. In its original form Suggestopedia has been rightly criticized over the years as not being capable of covering all methodological aspects of language tuition, and it has been superseded by the newer approaches mentioned earlier. Again, we must stress that, at DELEhelp, we don't follow any "method" slavishly, nor do we condemn outright any approach – be it traditional grammar (if correctly viewed as a shortcut to the patterns of the language), or Suggestopedia, for that matter. This latter may not be personally appropriate for all, depending on preference and personality, but that it could contribute to your induction into a Hispanic mind-set, is proven fact.
So, how would we help "liberate" you from the constraints inculcated in you by society, and by your (very human) adult ego, using the essence of Suggestopedia?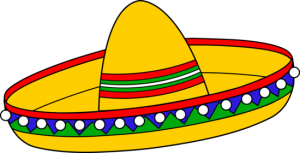 Firstly, we would ask you to choose and build (solely for the purpose of your Spanish language practice, not as a public persona) your own Hispanic identity, your "alter-ego".  Choose a name, a nationality, locality / residence, profession, family context etc., and write up a little mock biography which your tutor will use to refer to you by that name / identity. In other words, convert yourself into Pepe Pérez, a taxi driver from Cabo San Lucas, Mexico, for example.
Why do we do this? Because whereas John Smith may be understandably hesitant / reticent to mouth full-throatily in the Spanish way, the nice roaring RRR's when for example he must pronounce the name Raul, the newly minted "Pepe Pérez" will have no such psychological hang-ups.  And when Pepe mispronounces or says something that could be construed as silly, so what? It's no skin off John Smith's nose/ego!
This "mind trick" of mentally adopting, for learning purposes, a parallel identity may sound infantile, but the principle of "when in Rome, do as the Romans do" or "it takes a thief to catch a thief" (or any other idiom which we can twist and misuse to make the point that if you want to speak like a native, then go native) has been well proven. You simply have to de-suggest your mouth, tongue and jaw out of its rigid cultural fix. You have to accustom your communication tools, through positive suggestion, to function in a "new native" manner.  If not, you cannot avoid sounding in Spanish like the incomprehensible gibberish that you yourself have laughed at in the past, whenever you've heard others trying to speak your language, whilst retaining their own "sound system".
Intelligible pronunciation is absolutely vital to being understood – if you make errors of grammar, your interlocutor can usually compensate in his own mind and deduce what you're actually trying to say. Mispronouncing, on the other hand, usually means just a blank stare, indicating that he/she doesn't have a clue what you're talking about (and thus cannot possibly compensate). Therefore, it is rightly said that pronunciation is much more important than correct grammar, and you can only pronounce correctly if you acquire the native tools and mind-set. In the course of your online coaching sessions, a considerable amount of time and effort will go towards improving your pronunciation.
A few other psychological tricks you could consider employing to get yourself into the "Pepe Pérez" mould for your sessions with our tutors, as well as for use during your self-study time, is to identify for yourself a talisman such as a hat or beret that you imagine a Pepe would be wearing, and putting it on whenever you are "Pepe". Have a glass of tequila, or Spanish/Chilean/ Argentinean wine to hand, or a cup of mate, and put on bolero or salsa music, or classic Spanish guitar, in the background. We're sure that, with your fertile imagination and originality, you will be able to imagine your own re-enforcers of this idea.
Since these exams are based on the common European framework (CEFR) and therefore correspond largely with the goals of OBL/CLT/TBLL (i.e., "communicative competence"), how do we go about assisting you with your exam preparation?  We try to maximize your active interaction, not only with your tutor but also with authentic sources of everyday Spanish, such as found in the media. For this reason, two-thirds of the hours that we recommend you set aside each week for conscious, guided exam preparation (as opposed to informal preparation by means of – for example – listening to talk radio when you travel to work, or reading a novel in Spanish) will be dedicated to such guided interaction tasks.  Your efforts in completing these communicative tasks (i.e., the outcomes you produce), will be reviewed with you during the face-time that you have each week with your tutor via Skype.  The practical application of this OBL/CLT/TBLL approach will become apparent when we deal, here-below, with the very important aspects of lexis, pronunciation and correct grammar & spelling.
Check this DELEhelp blog-post, for a set of links to very useful free sites that can help you with your passive immersion, as well as with the vital flashcards for expanding your linguistic scope:
7.  

LEXIS (vocabulary and phrases)
Just as sure as the best gunner with the best machine-gun will not achieve results without bullets, so you will fail if you don't have the necessary "ammunition" for speaking Spanish. This ammo is constituted by your linguistic scope – by the words and word chunks (collocations) plus link phrases and expressions that you know. You need to seriously build your vocabulary (knowing each new word's proper pronunciation, its meaning, its gender in case of nouns and its irregularities in case of verbs, plus of course its correct spelling). Because, once again, knowing the rules of grammar serves no purpose if you don't have the words to which to apply those rules. These exams are very strong on testing your linguistic scope. It is therefore imperative that you read widely, particularly the better newspapers such as El Pais and El Mundo (which are available free, on-line).
When you are reading and you encounter a new word or expression, YOU HAVE TO LOOK IT UP.
We recommend using an on-line dictionary such as FARLEX.
If you are old-fashioned, get yourself a whole stack of note cards, of a stiff cardboard and in a color that you can't read through when held against the light. Note the new Spanish word or expression on the one side, and the English meaning(s) on the other. The modern way, though, would be to have flashcards on your computer, using free software such as Cram.com, Quizlet or Anki.
You simply have to memorize the vocabulary and phrases. The flashcard method of memorizing has the great advantage over making word lists, that you can easily test yourself. Secondly, while testing / memorizing, you can separate the cards into those that you know (which you put aside) and those you don't, which you put back in the pack. This way, you are not wasting eye and mind time on words you already know; you are focusing only on ones you don't know, and testing yourself till you don't have any "don't know" cards left in your hand.  You can also "play" the cards with a mate, or on the computer if you are using Cram, making it more interesting and challenging. Your tutor will be asking you to e-mail him/her your "new words" on a regular basis.
The best way to pick up the vocabulary of colloquial conversation-speak, is to watch Spanish-language soap operas – it will also help you with deciphering different regional accents (which DELE and SIELE will be testing you on). Whenever you have the opportunity, you should also be listening to Spanish-language talk radio – with live streaming now common, it is easy to tune in to stations such as RNE, the Spanish National Radio (see our blog-post on "useful links", mentioned earlier).
Because language does not consist solely of free-standing individual words, but most often of established patterns of words (such as idioms, proverbs and expressions) we have developed a Workbook (#5: "Spanish Idioms, Proverbs & Expressions") These expressions you should also transcribe onto individual cards, for learning purposes, paying particular attention to the "link phrases" that the examiners are so keen to see and hear you using. (See this DELEhelp blog-post for more on the importance of vocabulary:
8.

  PRONUNCIATION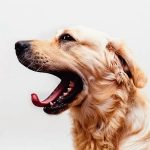 It cannot be stressed enough that lexis + pronunciation is the true key to being understood.
You have to practice the physical traits of mouth/jaw/tongue involved with pronouncing Spanish, and you have to liberate your mind and muscles from the rigid culture-cast and ego constraints – adopt your alter-ego and just go for it (it's Pepe being loco, after all – not you!).
You should also be aware of the problem of the human mind over-riding the human ear – with our minds suggesting to us that we are indeed pronouncing as we intend / would like to, whereas the truth is most often very different.  YOU THEREFORE NEED TO RECORD YOURSELF, to hear accurately how you truly sound when you are practicing your pronunciation. During your Skype sessions, your tutor will constantly be focusing on improving your pronunciation.
Once again, TV soap operas and talk radio are excellent tools for picking up the correct way to pronounce words.
During your DELE exam online tutoring sessions there will be time allocated to listening comprehension tasks, working through video clips (from YouTube) to help you attune your ear.
9.

  CORRECT GRAMMAR & SPELLING
Like most things in life, Spanish grammar becomes easier once you have an understanding of the history of the language, as well as of its evolution from ProtoIndo-European, through Vulgar Latin, to the vibrant Romance language of today.  You need also to understand the grammatical structure of Spanish (for instance, the importance of determining the correct modus or mood, before deciding on which tense to use).
We believe that foundational knowledge of this kind should be conveyed in the student's own language – in this case, plain English, devoid of unnecessary academic jargon and stuffy terminology.  Signing up for tuition with us, you will receive our Workbook #1: History and Origins of the Spanish Language and Workbook #2: De-Mystifying Spanish Grammar: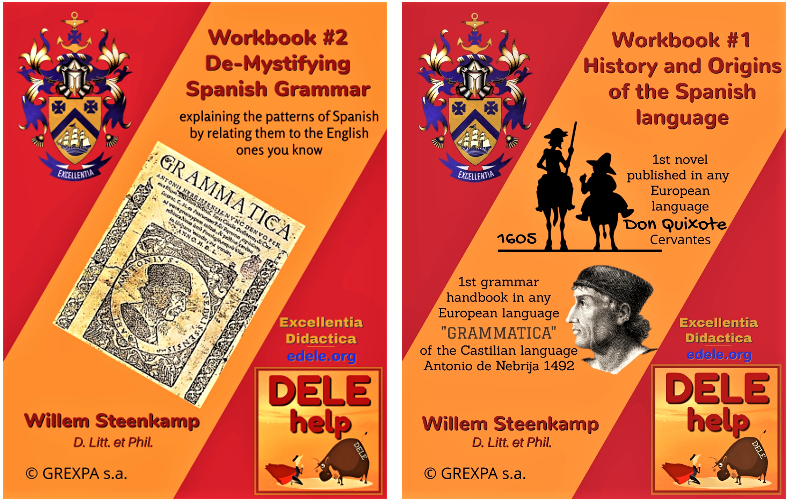 10.

EXAM SIMULATION
The key tool which we will be using to prepare you for your specific level of DELE, is the model exam. We use as departure point, the e-book series of model exams "Nuevo Examen DELE" written by Prof. David Giménez Folqués of the University of Valencia in Spain, which can be bought online and downloaded from Bubok publishers in Spain. David has been a member of the official DELE tribunal since 2005 (he kindly reviewed our in-house workbooks).
There is no better exam preparation than doing these model papers and assignments, because it provides your tutor (and yourself) with insight into your level / needed areas of extra focus, and it familiarizes you with the exam format as well as the nature of the challenge.
11. TYPICAL STUDY PLANS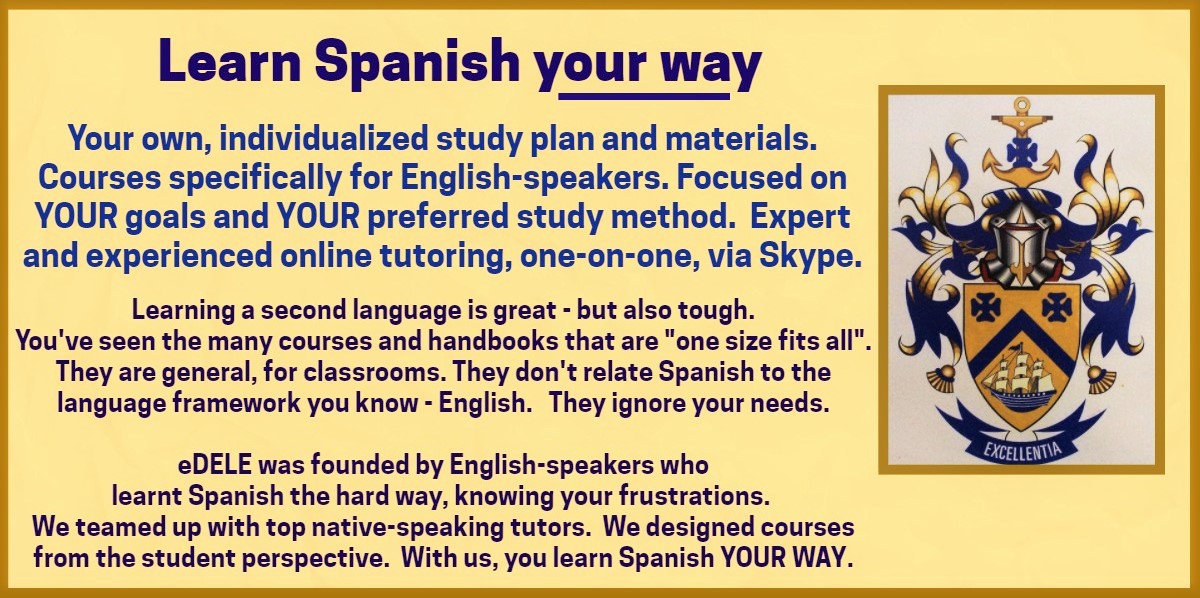 To give you an idea of what our online tutoring study plans typically look like, here are two plans, from both ends of the spectrum – one for A1 level, and the other for C2 preparation:
Level A1
Hola ABC
 Thank you for your patience through the diagnostic phase.
 As discussed with you today, it is clear that we have to allocate time to improving all four elements of communication as tested in the DELE: reading and listening comprehension, as well as written and oral expression. It is also clear that we have to focus on all four the evaluation criteria, namely expanding your linguistic scope, the correctness of language use, coherence and fluency (the first and last requiring most attention, in your case).
The study plan is based on at least 7 hours of active self-study and 3 hours of Skype interaction per week (i.e., not including passive immersion such as having talk radio / TV on in the background, and leisure reading).  It stands to reason that listening to and speaking Spanish is going to be the form of communication you most use in the real world, and it is also true that most people who fail DELE, do so for failing the oral expression exam. We therefore believe that we must allocate as much time as possible during the Skype sessions to oral interaction, because it helps you with gaining fluency as well as with your listening comprehension, listening to your tutor. It also permits immediate corrective intervention regarding pronunciation and grammar correctness, and shows up gaps in vocabulary/lexis knowledge. Furthermore, it is the one element that you cannot easily practice by yourself as part of your self-study (the written exercises you can evidently do as part of your self-study homework).
The program that we therefore suggest for the three one-hour sessions per week, is as follows (keeping in mind that, from time-to-time, we will deviate from this in order to include mock exams):
 Monday:
30 minutes vocabulary/lexis flashcard review;
30 minutes conversation class based on news items covered on the PracticaEspanol.com website during the previous week.
 Wednesday:
30 minutes of revision of grammar / written homework you've sent in by the previous Monday evening (try and do one chapter per week of "Step-by=Step", up to chapter 12, doing all the exercises and sending them in – this way we should finish with the DELE A1 curriculum's prescribed grammar in three months, with time left for revision before the exam);
30 minutes conversation class based on one of the videos from the attached prescribed list, which you need to preview during self-study (please view 2 videos per week).
Friday:
30 minutes of reading comprehension review, from your reading comprehension prescribed book (1 chapter per week);
30 minutes of conversation class based on the Spanish books you're reading (links below) doing 7 chapters per week.
 Please remember, when you are reading, to read out loud and tape yourself, so that you can review your pronunciation. Also jot down all new words in your flashcard system. Please send us your updated flashcard list every Monday morning. You should prioritize incorporating the words and expressions from our two Workbooks 4 & 5 into your flashcard lists a.s.a.p.
I am also including a link to the Kindle version of a useful little vocab book, which has at the back categories of words like family, food, shops, professions, animals etc.  
 The book links are:
Model exams:
"Nuevo Examen DELE A1". This e-book was written by Dr. David Giménez Folqués, professor at the Universidad de Valencia, Spain, and member of the DELE tribunal since 2005. It is directly downloadable and very affordable (some US$11).
Grammar:
One of the best handbooks for learning Spanish is called "Easy Spanish step-by-step" by Barbara Bregstein, published by  McGrawHill. You can buy the Kindle version from Amazon (i.e., it will download on your iPad and your laptop as well, with the free Kindle app) for US$7.22 .  We have it in the office, so you and your tutor can work off the same page on Skype.
Reading Comprehension:
For reading comprehension practice, we recommend another book which you can download from Amazon Kindle, called Practice Makes Perfect: Spanish Reading Comprehension.
General reading:
La isla del Tesoro / Robert L. Stevenson Zig-Zag (Kindle):
Stories from Mexico / Historias de Mexico (dual text = print edition) Side-by-side bilingual books:
1001 most useful Spanish Words / Seymour Resnick (Kindle):
For audio comprehension practice, we have selected a number of video clips freely available on YouTube, at A1 level – please see the attached list.
We will periodically be doing mock exams, usually the last Friday of the month, using the model exam e-book listed above – the oral expression part we will do on a Friday, instead of the regular conversation class that day (your interviewing examiner will be one of our tutors not familiar to you, i.e., not Monica).  Please do the written portions over the week-end, in one go (as in the real exam, simulating the conditions as close you can). Scan with the CamScanner smartphone app and send to us for review; we will then discuss the following Wednesday during the homework review slot.
 ¡Buena suerte!
 Salu2
Level C2 (prepared for an advanced student already very strong on grammar and pronunciation, and needing only familiarization with the exam format and a bit of "polishing")
 Dear XYZ
 After the diagnostic we've just completed, let me first state that we believe that you should go directly for the DELE C2. You've certainly got the potential, and doing C1 first won't really add much in the form of experience, since you will be doing sufficient mock exams during your preparation anyway.
 In planning your exam preparation, we need to be guided by the exam components, as well as by the exam scoring criteria.
 As regards the four exam components, we see you as being well versed in each – written & oral expression, as well as listening and reading comprehension. The ones probably requiring slightly more attention would be written expression and listening comprehension.
As regards the four main scoring criteria, namely linguistic scope, coherence, fluency and correctness, we believe that you will perform strongly in all of them, particularly in fluency and coherence. What we need to keep expanding is linguistic scope, by exposing you to varied vocabulary, as well as expanding your knowledge of the socio-cultural and historical background of Spanish and Hispanic society (please go through the C2 curriculum document in your DELEhelp Workbook #9.3 very carefully, in the latter regard).
 Having stated above the "what" that we have to do, the real question is the "how".
 You are evidently an excellent, self-motivated student – so most preparation will have to be done on your own, as self-study (the two hours per week that you have available for Skyping, will have to be focused on problem clarification, and on the aspects that are hard to do at home, such as oral presentation).  How you schedule your self-study will be entirely up to you. Please keep in mind the importance of passive immersion – keeping on talk radio / TV in the background as much you can, and doing lots of leisure reading, especially of the news media.
 As we've discussed, because of your already existing level of proficiency we don't see formal grammar revision in general as necessary.  You should identify aspects of grammar about which you feel uncertain, which we then can address, as and when necessary.  In any event, we believe that the oral and written expression exercises will quickly show up little niggles that need to be rectified, which can be addressed there and then.  We will, therefore, be setting you written expression homework tasks every week, on the one hand as practice, and on the other to show up grammar and spelling problems, if any.  These you should kindly try and return two days before your scheduled Skype session.
 As part of your "passive" self-study we would encourage you to read as much as possible, and to diligently expand your vocabulary flashcard list from such reading.  Prioritize reading the Spanish-language news media, as indicated in our DELEhelp blogpost on useful links: https://delehelp.org/top-dele-exam-resources-links-best-sites/
To expand your background on Spanish history and also your vocabulary on the Moorish era in Spain, please read the Kindle e-book "El Mozarabe" that I mentioned:
 For the listening comprehension, we will have to set time aside during the Skype sessions to do reviews with you (from the YouTube video list attached).  You should also be doing self-study, especially with the videos on the CervantesVirtual YouTube channel of the Instituto Cervantes, that we have asked you to subscribe to.
 The structure of the typical weekly two-hour Skype session will provisionally be:
Review of written expression homework tasks – 30 minutes
Review of listening comprehension videos – 45 minutes
Free-flow conversation – 45 minutes (based on news topics covered during the preceding week in the media, such as reported on the PracticaEspañol website, as well as relating to chapters you have been reading in El Mozarabe); the objective with the conversation sessions will be to identify grammar lapses, vocabulary shortcomings, pronunciation issues and to improve fluency and correctness in general.
 This structure will be open to continuous adaptation as the need arise – the closer we get to the exam, the more time will be dedicated to doing actual model exams and reviewing them (particularly to practice the multiple choice exam format used for reading and listening comprehension testing).
 Please let us have your thoughts on this draft study plan.
 Kind regards
So, ladies and gentlemen embarking on your Spanish exam challenge, there you have a comprehensive overview of our online coaching for DELE/SIELE & OPI methodology – of what we do, how we do it, and why we do it this way. Please remember that you can request a free, no obligation one hour exploratory Skype session with us, to see if we appear compatible with you and your needs. Just send us your contact particulars with our convenient Contact Information form that you can access by clicking on THIS LINK.
Good luck with your preparation!
Willem

[]