SPANISH EXAM PREP DONE RIGHT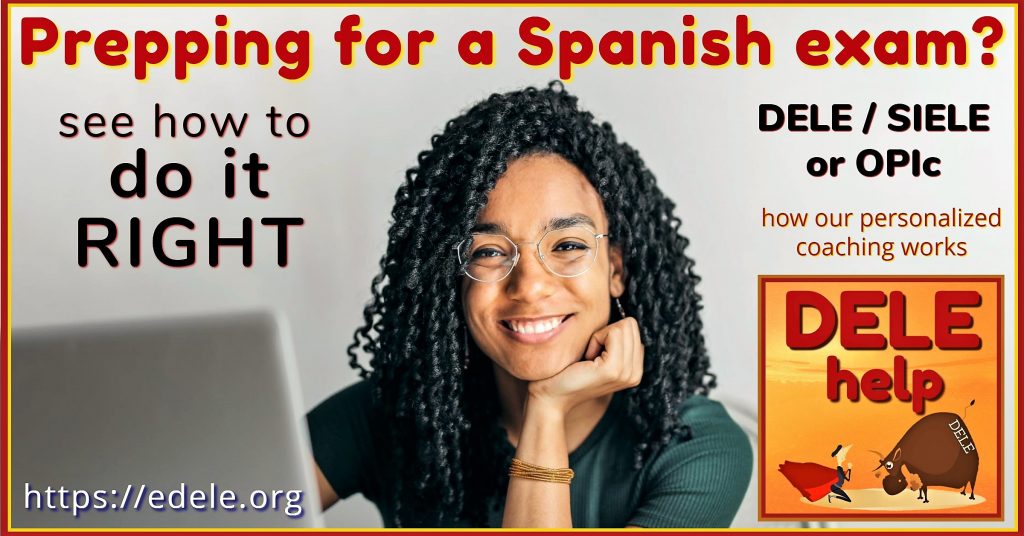 Spanish exam prep done right isn't always easy to come by.
Especially for English-speakers.
And particularly if your idea of what the DELE / SIELE & OPI is all about, is still (wrongly) dominated by the memory of academic language exams that you may have experienced at school or in college.
Because those typical school or college language exams are truly like chalk from cheese, when compared to modern exams of actual communicative competency in Spanish, such as the "examen DELE", as well as its online twin the SIELE, plus the equivalent American OPI/ OPIc.
What most students find especially hard to come by, is Spanish exam prep done right, at the right price.
Personalized preparation that offers you 1-on-1 coaching, with your own personal study plan. A targeted plan based on a thorough initial diagnostic of your strengths and weaknesses in all four the communicative skills that the DELE / SIELE / OPIc assess – not just relying on some quickie online "level test".
This blog post will show you how we at DELEhelp can assist you, to ensure that yours will indeed be Spanish exam prep done right: targeted and practical, at the most affordable rates you can hope to encounter for such specialized online personal coaching, anywhere on the internet. If you've wondered what exactly we offer, or how to get started, this blog post will explain ir all. We will walk you through all the key aspects, step by step, providing you with top tips.
WHO ARE WE?
Many people encounter us by word-of-mouth (thanks to our many satisfied alumni). Or perhaps you have seen us on Facebook. However, most of you would have done a generic online search, looking for expert help with preparation for your Spanish exam – whether that be the DELE, the SIELE or the OPIc. Many such searches lead to this, our acclaimed DELEhelp blog.
In this blog we share with you, entirely free, dozens of top-rated posts with practical, battle-tested tips for acing these exams. This free blog carries what in marketing parlance is called "content-based" marketing, meaning giving away valuable information and insights for free to prospective students, because it serves to demonstrate to you our credibility as truly expert coaches with first-hand knowledge and experience of these exams.
This inside knowledge stems from the fact that we are official coordinators for a SIELE exam center, as well as accredited proctors for the OPIc. I myself, a former head of a leading diplomatic academy and now emeritus director of studies of Excellentia Didactica (of which DELEhelp is a division), am a proud holder of Spain's top DELE C2 diploma. In addition, I hold five university degrees, including a PhD., and did specialized university courses such as in online language teaching (Cambridge) as well as "language teaching and learning" from Southampton, plus in applied linguistics (Leicester).
To give you an idea of the real-world, exam-simulating essentials that we focus on to ensure practical, effective prepping, have a look at this omnibus of our top blog posts, with quick links to easily access them individually: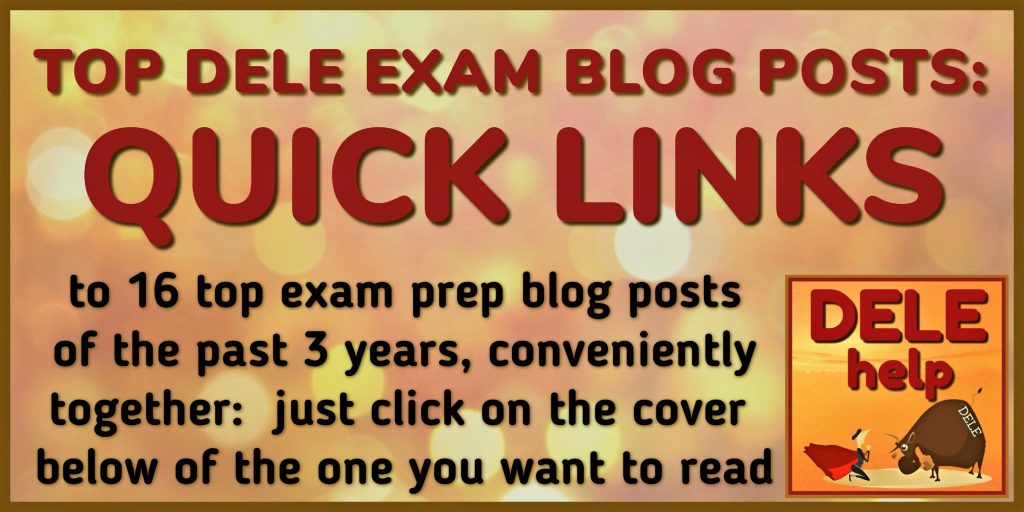 But – once you've read our blog posts and then (hopefully) had come to the conclusion that we are indeed expertly yet affordably capable of providing you with the realistic exam-targeted coaching you need – what then?
How do you get in touch with us, and what happens next, to get the ball rolling?
USING OUR CONCISE CONTACT INFO FORM:
Contacting us is very quick and easy. Just use our concise contact info form, which is linked to on our website and on each blog post: https://www.edele.org/contact-us.html It provides us with only the most basic information necessary to contact you, in order to e-mail you the download links to our free introductory sample e-books, plus to invite you to have a free, 1-on-1, hour-long exam orientation conversation with myself (as director of studies), in English.
We DO NOT harvest e-mail addresses for marketing purposes, and we NEVER engage in unsolicited bulk e-mailing campaigns. Neither do we sell to, or in any way share your particulars for profit with any third parties – EVER. Submitting the contact info form (and with it, requesting the free e-books and free exam orientation briefing) also creates absolutely NO CONTRACTUAL OBLIGATION for you.
FREE e-BOOKS:
Sending us the contact info form also serves as request for the download links to our free in-house sample exam prep workbooks. These we will send you in an e-mail, to the mailing address you gave us, together with basic information about our services and rates. (Since this will be our first e-mail contact, please check your spam filter if you don't see our e-mail within 48 hours of having submitted the contact info form).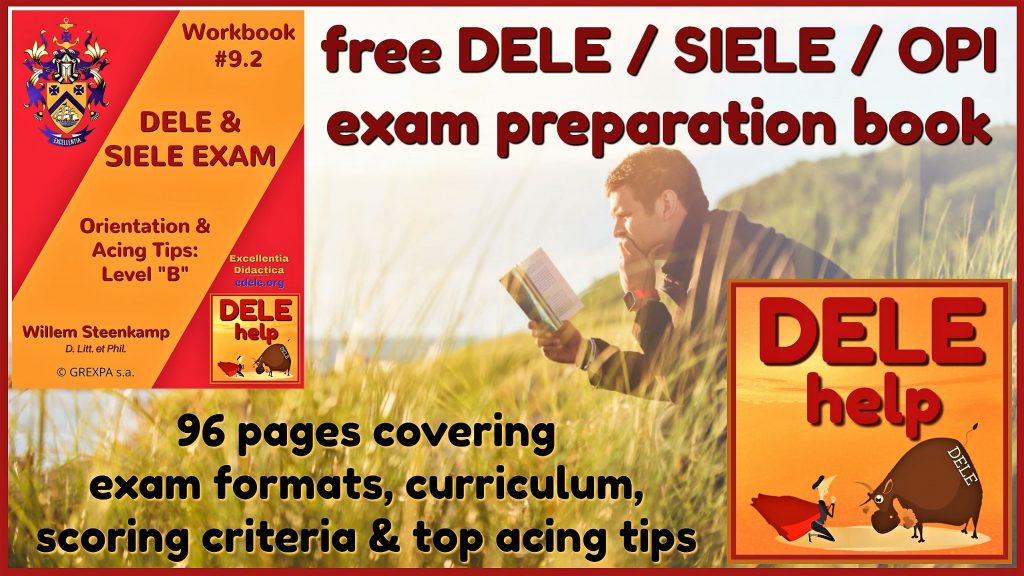 FREE ONE HOUR ORIENTATION BRIEFING:
The introductory e-mail with the e-book downloads, also includes the invitation to provide us with suitable dates/times for a free one hour orientation briefing about your exam, via Skype or Zoom. This briefing will be done by myself 1-on-1 with you in English, and will explain all about your particular exam's unique nature and scoring criteria, plus the best prepping methods, thus giving practical details about our coaching. It will also afford you ample time to ask all your questions.
The first part of the briefing will explain to you in detail what these exams are all about (again – they are very different from academic school or college exams). I will explain the didactical goals they are set to achieve, their structure, scoring system and the assessment criteria that the examiners use. Understanding fully the particular nature and requirements of these exams – in other words, what the examiners are looking for – forms one leg of our guidance for Spanish exam prep done right. Because clearly you need to be preparing yourself to give the examiners what they are ACTUALLY looking for – NOT what you may imagine their requirements to be, as based on your previous experience of school or college exams.
The second leg of my briefing on such effective, targeted exam prep methodology, is based on the latest neuroscience. It involves knowing how the human brain actually processes the acquisition of language skills. This orientation is equally as essential as understanding what your examiners want, because it will enable you to adopt the best methods for effectively acquiring the necessary communicative skills, so as to pass your exam. I will explain to you the appropriate methodology in order that you can PRACTICE right, thereby developing the "can do" skills that these exams actually assess. Otherwise, you may embark on "studying" hard, school style, and ending up with no more than just abstract knowledge of the language (which will be entirely insufficient for the purpose of passing).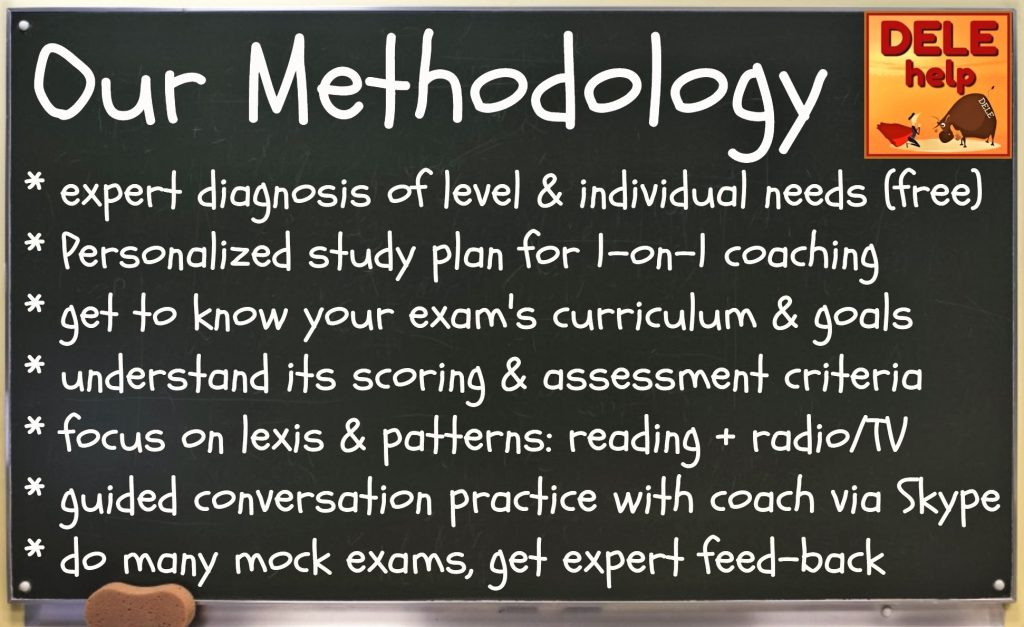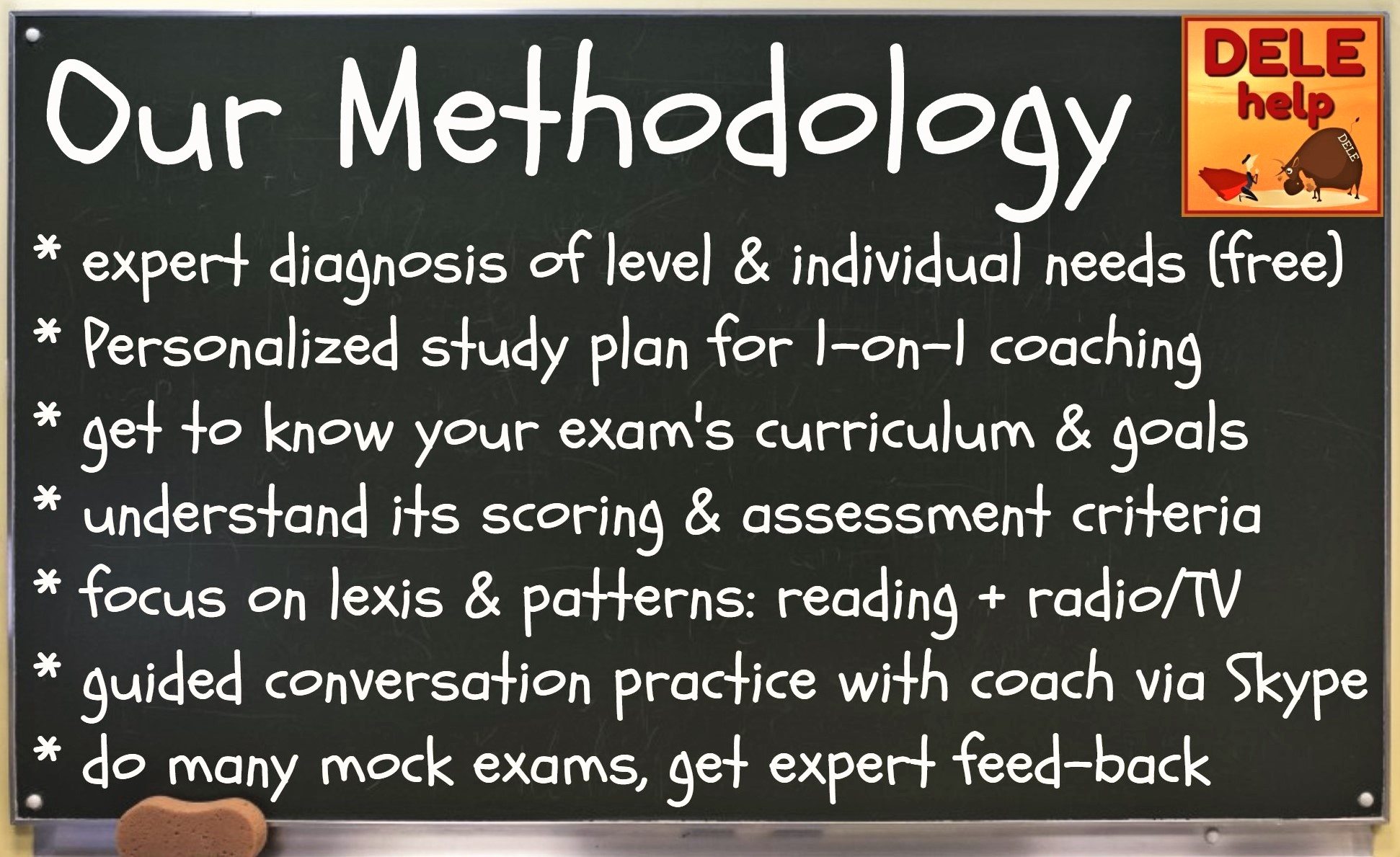 The last two parts of the orientation conversation will deal firstly with the practicalities of our coaching, such as how the free initial diagnostic is done (using an actual DELE exam paper, at your level), how to book your coaching sessions online, and how to make payments (easily and securely via PayPal). Lastly, it will allow you the opportunity to ask all the questions you may have.
You may ask, at this point, exactly who am I and how am I qualified to brief you on these key issues? Apart from being a retired lawyer, I have a Ph.D. in Social Sciences plus certificates in Applied Linguistics from the University of Leicester, as well as in online language tuition from the universities of Cambridge and Southampton. I had the honour of representing President Nelson Mandela as ambassador and also headed the South African Diplomatic Academy. I hold the DELE C2 diploma and am official coordinator for the accredited SIELE exam center here in la Antigua Guatemala, as well as being official proctor for the OPIc. Apart from that, I am a published novelist and speaker of four languages, understanding a few more. I can, therefore, look at exam prep not only from the perspective of a tutor, but also from that of the student – having "been there, done it" myself.
After this exploratory conversation, and once you have confirmed that you want to come aboard, we will send you our comprehensive "welcome aboard" e-mail as a one-stop reference to the resources we will be using, the initial diagnostic assessment, plus the practicalities of booking.
THE "WELCOME ABOARD" e-MAIL:
This unavoidably comprehensive e-mail consists of five parts:
Resources (sub-divided into three sections: free in-house workbooks, free "open source" materials available online, and the few 3rd party books you'll need to purchase);
The initial diagnostic;
Payment;
Scheduling your coaching sessions; and
A step-by-step walk-through of what to do when, to set yourself up right for your online classes.
RESOURCES: The bulk of the resources that you will be using, will be our free in-house workbooks, specifically written (in English) for English-speaking students preparing for Spanish exams. These e-books approach preparing for these exams from the student perspective, with emphasis on what you need to do and master, in order to PASS. They contain contextual explanation, so that you understand what needs to be done, and why – rather than having to rely, parrot-style, on rote learning techniques. They also contain practical tips and proven strategies for doing well, gained from own experience of having been a student myself: having passed the DELE at topmost C2 level, and years of real-world observation as SIELE exam coordinator and OPIc proctor.
Workbook #1 is a short backgrounder on the history and origins of the Spanish language (do you know that, of the 12 chapters of the official DELE curriculum of the Instituto Cervantes, only one deals with grammar, whilst three deal with history, culture and traditions?).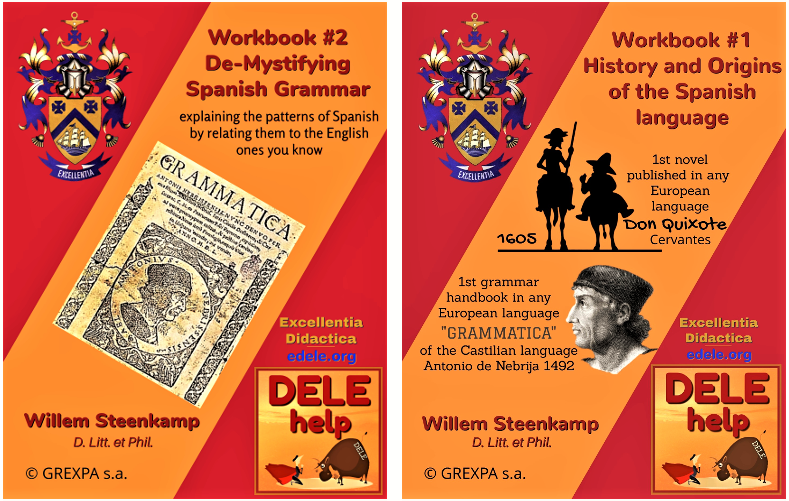 Workbook #2 is entitled "De-mystifying Spanish Grammar". This it does by relating the Spanish constructs to the English structure that you are familiar with, thus giving you a conceptual reference framework for understanding.
Workbook #3 explains our methodology and its didactical foundations in detail.
Workbook #4 helps you with the essential challenge of developing a "sufficiently large linguistic scope" (one of the four exam assessment criteria) meaning mastering Spanish vocabulary, by explaining the use of modern flashcard systems and the 12 fixed conversion patterns of cognate words. This will immediately give you a large vocabulary of words that you are familiar with in English (more than a third of the words in English and Spanish are such easily-recognizable cognates).
Workbook #5 extends your mastery of Spanish lexis, by helping you record in your flashcard system, the most important expressions, idioms, collocations, and link phrases.
Workbook #6 explains the functioning of the Subjunctive Mood in a readily-understandable manner.
Workbook #8 is a detailed orientation about the OPIc test.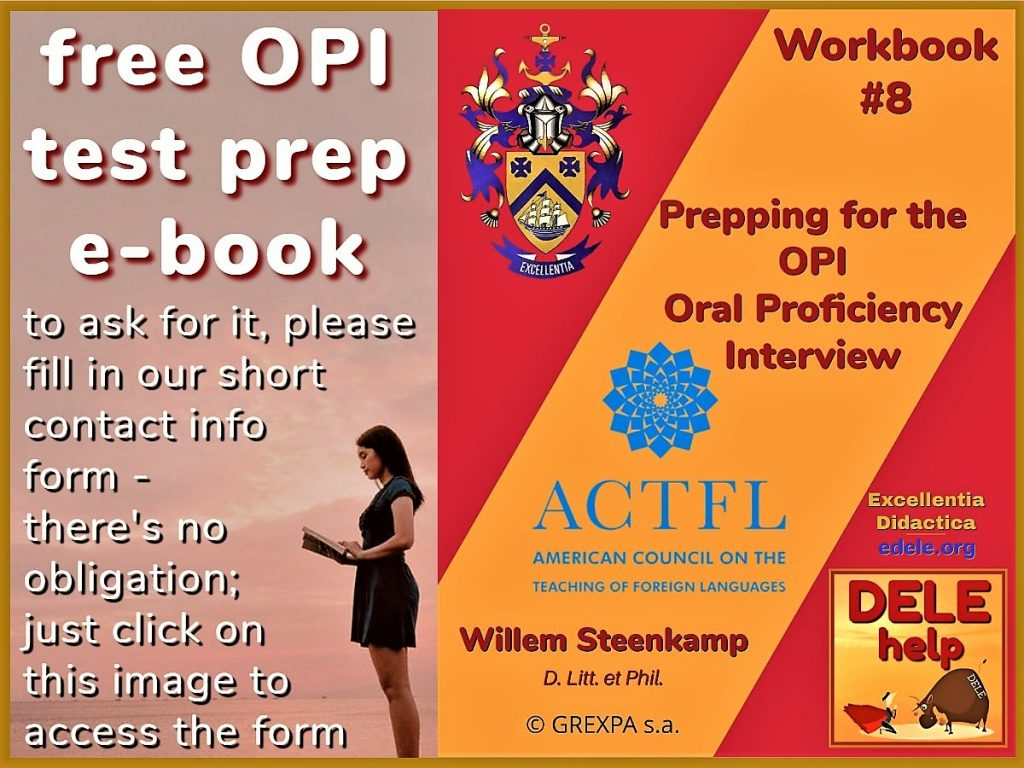 Workbook #9 consist of 96 pages and is titled: "DELE / SIELE exam orientation and acing tips", which will walk you through these exams' goals, curriculum, format, scoring and assessment criteria in detail, as well to discuss and guide you regarding proven strategies for doing well in each of the four skills tested, namely reading and listening comprehension, plus oral and written expression.
Of these workbooks, you will get download links for numbers 1, 2, 8 & 9 free as samples, if you reach out to us via our Contact Info Form (LINK) mentioned earlier; the others you will get free when you sign up.
Other free in-house resources that we will make available to you, include our blog posts with acing tips and explanations of key issues, an album of conversation trigger photographs (similar to those used in the oral exams), a verb conjugation practice matrix (for Level C candidates) and a list of selected YouTube videos for listening comprehension practice, for each level.
The free online resources that we recommend are well set out in this targeted blog post, which you can access by clicking on the image below: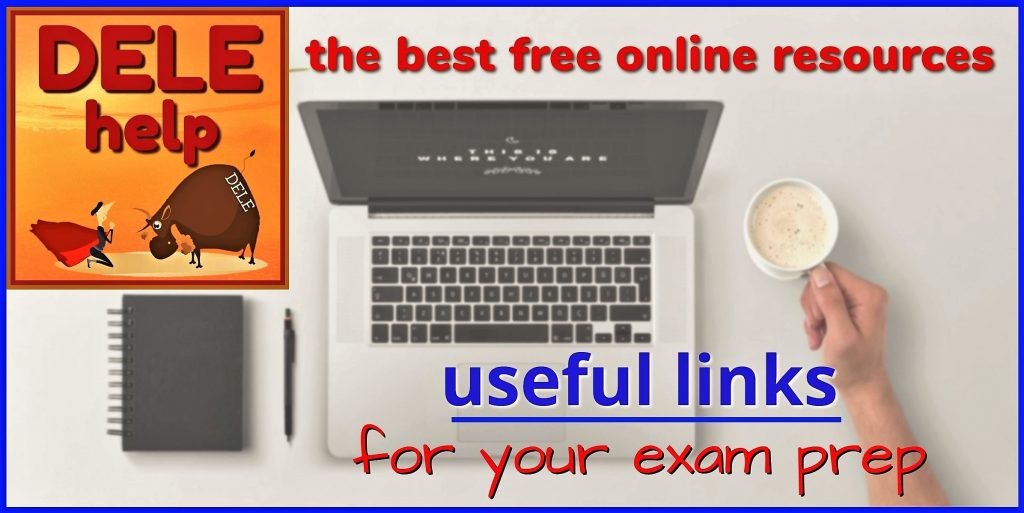 The few 3rd party resources that you will need to purchase should not cost you more than US$40. They include, as grammar reference book, the best-selling language handbook of all languages on the planet, at Amazon (published by McGraw-Hill), plus books of model exams (which will be your staple diet, of course). The details of these we will give you in the "welcome aboard" e-mail.
DIAGNOSTIC: The initial assessment of your pre-existing level plus your strengths and weaknesses will consist of an actual DELE exam at an appropriate level. This serves not only as diagnostic, but as introduction / orientation, showing you what the actual exam looks like. This exam will be attached to the "welcome aboard" e-mail as two separate .pdf's – one containing the written parts of the exam (to be done either piecemeal or in one go, as you may elect, in your own time) and the other the oral exam. You will be asked to open the latter 20 minutes before the start of your first online coaching session, when your tutor will do the oral test with you (those 20 minutes serve for you to prepare your notes for the first oral exam task, which will be a short presentation / monologue).
It needs to be stressed that the purpose of doing this exam is not to pass or fail you – it is akin to going to a medical doctor; she won't give you a prescription without first doing a diagnosis, wanting to see your blood tests etc. It's the same for us – just as you can't fail a blood test (it simply is what it is) you can't "fail" our diagnostic; it simply provides us with an essential baseline for designing your own personal study plan.
SECURE AND EASY MONTH-END PAYMENTS VIA PAYPAL:
Our billing is based on the actual number of Skype/Zoom hours taken in a given month, at US$18 per hour – meaning that all our in-house study materials, plus our own time spent on class prep and assignment/mock exam review, is yours at no extra cost (there are no hidden extras such as taxes or bank transfer costs either).
We bill "the old way" – at the end of each month – so there's no coupons to buy. However, after your initial complimentary orientation session with me (if then you decide to make use of our services) there is a "good faith sign-up fee" of US$54 to pay. This $54 you will in fact get back in the form of resources and services. This is an honour system, securing our investment in your personalized initial diagnostic and the valuable in-house resources that we make available to you free at the outset. NB: You will get back the $54, in the form of your first three hours of coaching thus being pre-paid. In other words, we will send you the invoice for the sign-up-fee, immediately upon you confirming that you want to work with us – BUT our in-house resources plus your diagnostic test material will only be shared with you once we've received the $54 sign-up fee.
Payment of the "good faith sign-up fee" as well as of our monthly invoices is secure and easy, online, using PayPal.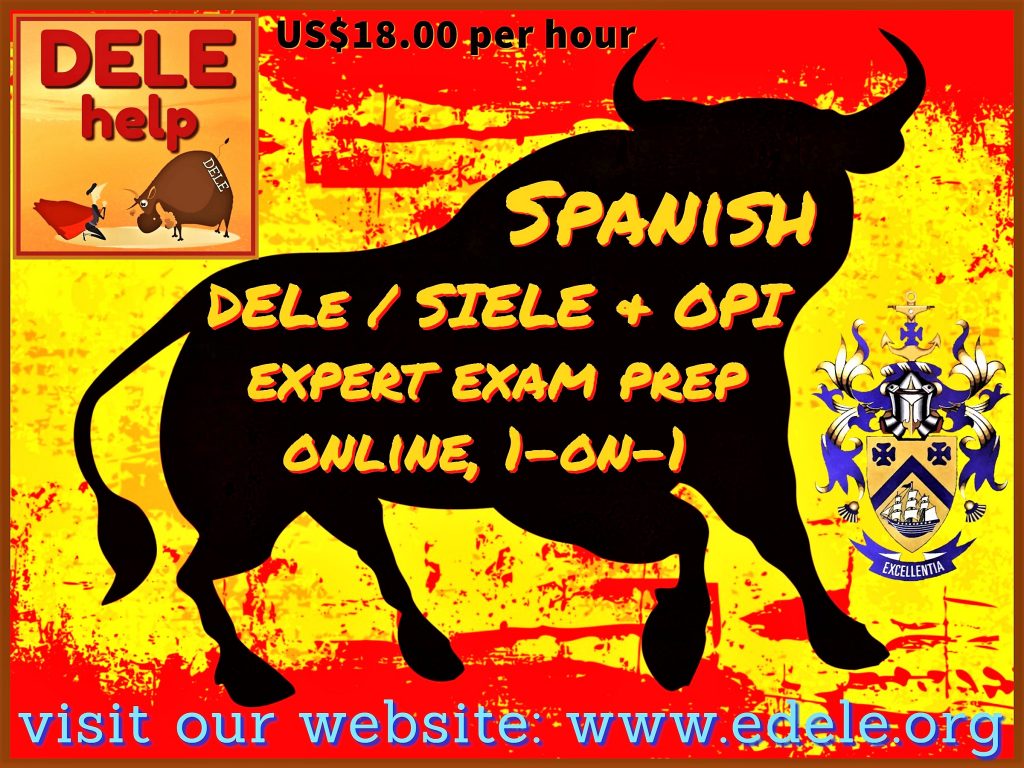 CONVENIENT, FLEXIBLE ONLINE SCHEDULING MANAGED BY YOU:
Our scheduler is online, flexible and convenient. We are open from 7am to 10pm Guatemala time, seven days a week. Scheduling is entirely in your hands. You select from the available slots, in terms of your changing convenience, without being immutably bound to a particular date and time slot, week after week. You can re-schedule or even cancel a pre-booked session, up to one hour before the set time, with no penalty or even questions asked. Please note that our scheduler is standardized on Guatemala time, which is GMT-6 all year round (we do not change for summer / winter time).
WHAT YOUR STUDY PLAN & COACHING SESSIONS WILL TYPICALLY CONSIST OF:
In brief, our tutoring via Skype or Zoom is one-on-one, personalized, and highly flexible.
As said, our first step will be to do a proper diagnostic of your individual strengths and weaknesses, from which we prepare a personalized study plan. This is done to avoid wasting time on aspects that you already have mastered, and to ensure that there are no blank spots in your preparation. We go way beyond merely testing your command of Spanish grammar, by covering each of the four communicative competencies that will be tested in the actual exams.
Once we have established your strengths and weaknesses and agreed your personal study plan, you should find that the latter will typically provide for about 2/3 self-study and 1/3 online interfacing with the tutor (i.e., for every hour of Skype/Zooming, we assume two hours of guided self-study). During the first phase of actual coaching, we will thoroughly familiarize you with the exam formats and curriculum. We will inform you about the four scoring criteria applied by examiners in evaluating you in the oral and writing tests, and coach you in the techniques used by examiners in the multiple choice reading and listening comprehension tests. Our tuition is hands-on, simulating exam reality, and is goal-driven (i.e., absolutely focused on helping you to pass the exam). Above all it is practical, informed by first-hand experience of the exam.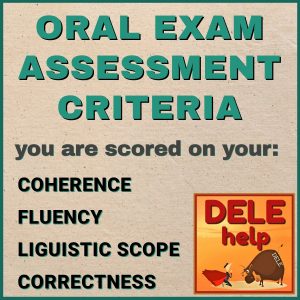 Our 1-on-1 coaching is an intensive effort to help you develop your actual communicative ability in Spanish, so that you can demonstrate the real-world skill sets that the DELE / SIELE's four equally-weighted scoring criteria evaluate [These being (1) coherence, (2) fluency and (3) demonstration of ample linguistic scope, plus (4) accuracy of pronunciation / spelling and grammar]. Our aim is to help you perform optimally in the exam setting – to develop your "can do" communicative competencies – rather than to simply lecture you school-style about the "rules" of the Spanish language (which merely allows you to "know" in the abstract, instead of enabling you to actually DO).
Once you are properly orientated about the exam requirements, the Skype/Zoom sessions serve to practice the skills identified as your weaknesses, focussing particularly on those that one cannot really practice alone, on one's own at home – such as practising for the oral expression part of the exam (since you can't talk to yourself in the mirror). The coaching sessions also serve to give feed-back on the self-study assignments you've submitted beforehand (for example, practicing writing in Spanish) and reviewing with you your mock exam results. We include a lot of realistic simulated exam practice – using actual previous, as well as model exams.
If you want to know more about our DELE/SIELE/OPI exam coaching methodology, you may find scanning through this Workbook useful: https://tinyurl.com/y8lz6fg7
To stay abreast of new developments, check out our DELEhelp Facebook page: https://www.facebook.com/delehelp/
(It would be great if you could give it a like 😉).
Buena suerte with your exam prep!