Mastering ser / estar and gender in Spanish
For English-speakers, mastering ser / estar and gender in Spanish are among the hardest grammar challenges. Yet master them one must, because in the marking of exams such as the DELE / SIELE or the American OPIc, one of the four main assessment criteria that the examiners apply is called "correctness", which refers to accuracy in language use: pronunciation, spelling and grammar.  And, for better or for worse, correct use of ser and estar, and ensuring concordancia of gender, remain among the most evident indicators of grammar correctness that examiners pick up.
In a bit more detail: the "correctness"  criterion covers how grammatically and semantically accurate the candidate uses the Spanish language in the written and oral expression exam tasks. The semantically correct part refers to the apt and faultless use of words and idiomatic expressions – that is, a question of lexis. This goes hand-in-hand, in the oral, with pronouncing the words correctly, and in the written tasks, spelling them without mistakes.
The grammatically correct part refers essentially to avoiding common mistakes which are easy for examiners to pick up. Two of the most common of these, are the incorrect use of the verbs "ser" and "estar" (two distinct verbs in Spanish, but which both translate in English into "to be"). As regards the correct use of nouns, the most challenging issue for speakers of English (which no longer uses gender) is to ensure that nouns and their definite articles or related descriptors such as adjectives, agree in gender (called concordancia). In this blog post, we will explain the origins, so that you can understand the logic behind the Spanish forms.
To be or not to be… why does Spanish have both ser and estar?
English-speakers are often said to be confused by the fact that "Spanish has two verbs for expressing to be". But is it really correct that English expresses all states of being with simply "to be"?  How do English and Spanish differ in this regard? To understand when to use "ser" and when "estar", one needs to understand the distinct roots and meaning of each. But firstly, it is important to understand how and why English evolved differently.
Our starting point on the journey to understanding the divergence between English and Spanish, is the different root forms of "to be" that existed in our common Proto-Indo-European ancestor language.  Discovering these roots will help explain why "to be" in English ends up being so very irregular (I am, you are, she is, he was, they will be, we were, etc.), with a mixed bag of sounds that one will not typically associate with being conjugations of just one, same verb.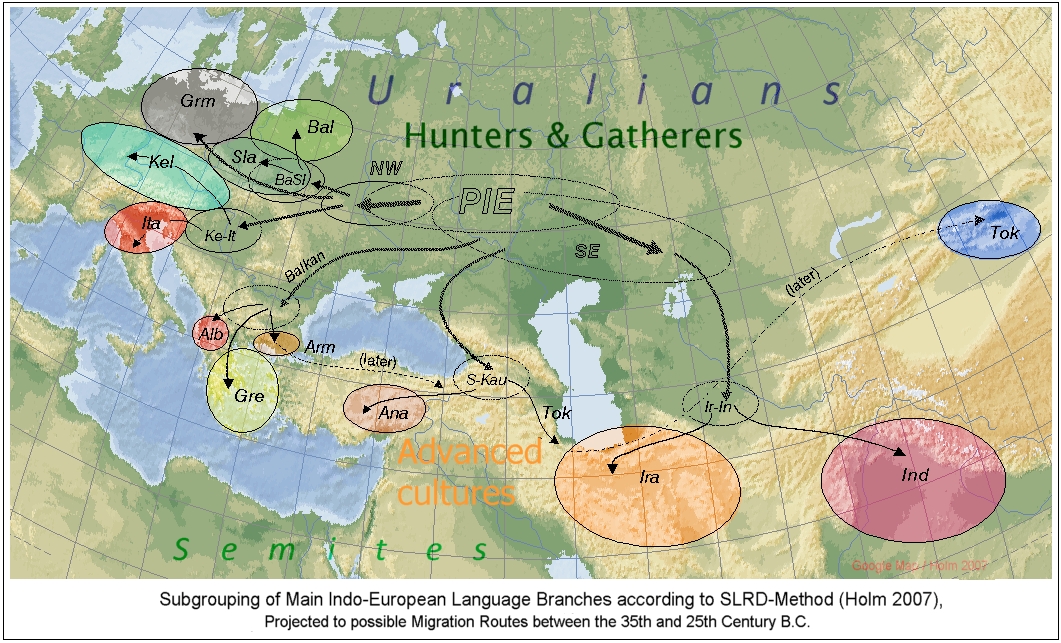 The fact that, in all Indo-European languages, the verb for "to be" happens to be their most irregular verb, stems from two main reasons. The first is that it has the highest frequency of use (thus more incentive and opportunity for simplification). Secondly, in its simplification, its original composite parts tended to be rolled into one or two so-called conglomerate verbs (meaning that each new simplification is a hodgepodge of bits and pieces from different ancestral verb roots, thrown together by the vagaries of everyday common usage).
So, which were the PIE roots from which modern-day Spanish "ser" and "estar" derive, as well as the English "to be" with its many seemingly unrelated variations (is, are, was, were, am, been etc.)?  We cannot be absolutely sure about pronunciation, but the following root verbs are today widely recognized:
 "sta-" : In PIE this appears to have meant "to stand". In classical Latin, "sto / stare" retained this meaning, but in the everyday or Vulgar Latin of the common Romans, it came to be used as a copula (i.e., as a "to be" verb that couples something to its status – "the sky is blue"). The PIE verb "sta-" is the root of one of the two modern-day Spanish copula verbs, namely "estar". This PIE root is also at the origin of the modern word "status" (a Spanish and English cognate word, which is to say it has the same meaning in both languages).
"es-" :  The English "is" traces its roots to this verb, as do the Latin "est" and Spanish "es" (the latter a present indicative conjugation of the other Spanish copula verb, namely "ser").  It appears that the PIE root "es-" meant much the same as modern-day "is". The word "essence" also derives from this root.
"bhu-" : The original meaning of this PIE verb probably was "to grow", or "to become". It has survived in English as the infinitive be and the participle been. In Latin, the PIE sound "b" transformed to /f/, giving us the Latin fuī, which today is one of the past tense (pretérito) conjugations of the Spanish verb "ser".
"wes- ": In PIE this may have meant "to live". It is the root for the modern English "was" and "were".
"er-" : The modern English word "are" seems to derive from this, apparently via Old Norse, with probably at its far origin the PIE root "es-".
 What one can easily see from the above, is that the English "to be" is in fact far more of an irregular conglomerate than the two Spanish copulae of "ser" and "estar". So how does English, with only one verb for the many nuances of being, convey these different nuances? It is common in English to use adjectives to describe the status or essence of something or someone: "Paul is bored" describes Paul's current status, but "Paul is boring" describes Paul's essence – an essential characteristic of his.
The Spanish way of conveying such a distinction is different, because the adjective stays the same but the copula (i.e., the choice of verb "to be") is chosen according to whether we want to signal a status or an essence: I am bored = Estoy aburrido, I am boring = Soy aburrido.
We have looked at the PIE roots of the English and Spanish "to be" verbs, in order to show first the causes for the divergence of English. Now, for an understanding of the meaning of the Spanish "ser" and "estar" we must move forward in time from the PIE stage to Vulgar Latin, from which Spanish most directly evolved.  The Spanish verb "ser" is derived from the Latin "essere" (the root of the English word "essence") and "estar" from the Latin "stare" (the root of English words such as "state" and "status").
In Spanish, "ser" is used when the fundamental essence of something or somebody is described, and "estar" when something or someone's status (state of being) is described.  It is sometimes said that "ser" relates to a trait that is "permanent" and "estar" to something "temporary", to a "condition". This distinction often has casual validity, but "essence" and "state" are the true indicators – permanent and temporary can, in themselves, be confusing, for example when you deal with a concept such as death (a "state of being", but one that's definitely not temporary!). As Sam Gendreau explained in the lingholic blog: So for example, if we were to talk about somebody who died, in Spanish we would not say "es muerto" (he's dead, using ser), but rather "está muerto" (he's dead, using estar). Being dead is a state, albeit a permanent one. But no one is dead in "essence". (Well, if you were to talk about a zombie, or Dracula, you could probably use "ser" instead of "estar", since in this case, they are truly dead in essence)."
To further illustrate the difference between "ser" and "estar", let's look at this example:
With ser: "¿Cómo es tu madre?" – what is your mother like?; and
With estar: "¿Cómo está tu madre?" – how is your mother feeling?
In these examples, "ser" evidently relates to the mother's essential characteristics – her personality traits. Is she generous by nature, or selfish? Tender or aggressive?  On the other hand, "estar" relates to her state – is she well, or is she ill?
 To sum up – in English we would select the right adjective with which to indicate whether we are describing the essence of something or someone, or on the other hand his/its status.  In Spanish, however, we would convey this distinction by selecting the right copula verb, using "ser" for essence and "estar" for state.
Having placed you hopefully in a state of full understanding of the essential differences between "ser" and "estar", we can now proceed to seeking agreement on the role of gender in Spanish (which is important, because of the rule that there must be concordancia – agreement – in Spanish between the gender of the noun and that of the definite articles, adjectives etc. used with it).
Gender concordancia: Female libido and male dilemmas
Grammatical gender is a system of noun classification present in approximately one fourth of the world's languages. In languages with grammatical gender, each noun is assigned to one of the gender classes. Most such languages have from two to four different gender classes, but some have up to 20!
The key thing to understand, is that "gender" as used in linguistics in fact is not tied up with biological sex – as Steven Pinker explains in "The Language Instinct" in relation to the 16 genders of Kivunjo, a language belonging to the Bantu (South & Central African) linguistic family:  "In case you are wondering, these 'genders' do not pertain to things like cross-dressers, transsexuals, hermaphrodites, androgynous people, and so on…  To a linguist, the term gender retains its original meaning of 'kind', as in the related words generic, genus, and genre.  The Bantu 'genders' refer to kinds like humans, animals, extended objects, clusters of objects, and body parts. It just happens that in many European languages the genders correspond to the sexes…" (in the case of most Indo-European languages, gender classes have labels such as male, female and neuter).
In gender-based systems, gender is considered an inherent quality of nouns, and it affects the forms of other related words through a process called agreement (Spanish = concordancia). This means that nouns and for example adjectives that qualify them, must agree in their gender class, as well as in number (meaning plural or singular). Nouns may be considered the "triggers" of the process of agreement, while other words will be the "target" of these prescribed variations, impacting their endings. The word endings have to harmonize with the noun and thereby often contribute to the harmonic "musicality" of the language (i.e., the ending of the noun and the adjective will sound the same, both for instance ending on "-a" in the typical feminine configuration in Spanish).
For modern-day English-speakers the concept of noun gender is foreign, because English, like another modern Indo-European language, Afrikaans, have nearly completely lost grammatical gender (although Old English still had it).
Proto-Indo-European initially had two "genders", being animate and inanimate (showing thereby, once again, that "gender" in Linguistics has got nothing to do with biological sex). The animate gender in Proto-Indo-European later split into masculine and feminine, thus originating the three-way classification into masculine, feminine, and neuter (i.e., inanimate). Many Indo-European languages retained these three genders, including most Slavic languages, Latin, Sanskrit, Ancient and Modern Greek, and German. However, many languages evolved, reducing the number of genders to two. Some lost the neuter, leaving masculine and feminine; these include most Romance languages, of which Spanish is part. Thus, the three grammatical genders of Classical Latin were replaced by a two-gender system in Spanish.
The neuter gender of classical Latin was absorbed by the masculine gender class in Spanish. Nouns in Spanish that denote specifically male persons (or animals) are normally of masculine gender. Those that denote biologically female persons (or animals) are normally of feminine gender. Since all things, and thus all nouns, must belong to a linguistic gender class, those nouns that denote something that does not have any sex have been willy-nilly allocated to one of the two genders classes by common usage, often in apparently arbitrary manner.
Why do we encounter so much apparent "arbitrariness" in most languages? It should be understood that our present-day fondness of grammar "rules" thus post-date the establishment of these languages by centuries, if not millennia. It wasn't ever a case of a committee on linguistics meeting in some cave dwelling and establishing nice "rules" for their evolving languages, which ancient populations then all dutifully followed. On the contrary, even the latter-day official language committees like the Spanish Royal Academy can at most try to condense generalized codifications from the real-world, idiosyncratic speaking habits of highly diverse populations. Like all human activity and social evolution, the evolution of language also is haphazard and often impacted by outside forces. In the operation of these forces, the notions of linguistic purity and logical consistency rarely were among the strong suits.
In Spanish, nouns that end in –o or a consonant are mostly masculine, whereas those that end in –a are mostly feminine, regardless of their meaning. These "rules" regarding endings on "-a" and "-o" may override biological reality in some cases: for example, the noun miembro ("member") is always masculine, even when it refers to a woman, and persona ("person") is always feminine, even when it refers to a man. But then – quite counter-intuitively – we have "la libido" and "el dilemma".  (Persons of the female persuasion are normally quite comfortable with allocating "la razon" to their side of the fence, and with having "el problema" assigned to the masculine gender…)
In other cases, though, meaning does take precedence, through varying the definite article (el or la) going with the noun, according to biology: the noun comunista "communist" is masculine when it refers or could refer to a man, even though it ends with -a (i.e., el communista). This is a deviation from the typical rule that the definite article for each noun is fixed according to the noun's allotted gender class. Another deviation from the norm is that nouns can sometimes vary their termination to indicate a different sex. Thus, in Spanish, niño means "boy", and niña means "girl". This paradigm can be exploited for making new words: from abogado "lawyer", diputado "member of parliament" and doctor "doctor", it was straightforward to make the feminine equivalents abogada, diputada, and doctora.
In general practice, though, nouns in Spanish generally follow the gender class of the Latin words from which they are derived. When nouns appear to deviate from the rules for gender, there is usually an etymological explanation, related to its origin: problema ("problem") is masculine in Spanish because it was derived from a Greek noun of the neuter gender (and the neuter was later absorbed into the masculine), whereas radio ("radio station") is feminine, because it is a shortening of estación de radio, a phrase with as its head the feminine noun estación (or also: la radiodifusión). The same applies to "la moto" (the motorcycle) because "moto" is short for "motocicleta", which is feminine.
When memorizing noun gender, it will be noticed that the counter-intuitive masculinity of many nouns ending on "-a" is due mostly to them being originally of Greek origin – particularly words relating to science and abstract notions (i.e., not concrete things). As mentioned above, in the original Greek their gender was "neuter" and they were absorbed as such into the Latin "neuter" gender class, when classic Latin had three gender classes. In consequence, when Vulgar Latin / Old Spanish discarded the "neuter" gender and folded it into their "masculine", these Greek-derived words ending on "-a", became "male".
Perhaps the quickest way to undo misconceptions about the supposed male or female gender class of all Spanish nouns is, therefore, to re-affirm that in general it has nothing whatsoever to do with biological gender.  It could just as well have been called red and green nouns, or – more to the point – the "la/las" nouns and the "el/los" nouns.  Like verb conjugations, the correct gender class of nouns has to be learnt through rote memorization, for which flashcards are very useful, whether of the digital or the cardboard type. Just remember to always note on each card, the Spanish noun together with its correct gender and definite article (la or el) and learn the combination.
To relate the above to the scoring criterion of correctness used in exams of communicative competency, one can see quite easily how incorrect use of "ser" and "estar" and mistakes in gender agreement would leap in the eye of a native Spanish-speaking examiner. Such errors may often relate to idiosyncrasies that deviate from the norm, but the same applies to English – just think of how quickly you'd spot somebody saying "two oxes" (on the regular model of "two boxes") instead of "two oxen". These idiosyncrasies exist in all languages, and there is no alternative to learning them by heart if we want to speak "correctly" (incidentally, "ox" in Old English belonged to the feminine gender class, which in the plural ended on "-en", which is the reason for its apparent deviation; other similar Old English words have however succumbed to common modern usage, like the old form of "one cow / two kine" which became in modern English "two cows").
It is important to note with regard to the DELE / SIELE exams, that one should NOT over-emphasize occasional small errors of the above kind – as long as the meaning that the candidate tried to convey still could be clearly understood. Examiners are under clear instructions to ignore small grammar mistakes that do not harm clarity of meaning, because these exams are, above all, tests of "can do" communicative ability – and communication by definition is the art of conveying meaning.
In other words, unlike school or college, these are NOT primarily grammar-based exams, although no-one would want to throw away marks on repeated errors that could have been avoided. It should also be noted that it is perfectly in order to correct oneself during the oral exam, when you realize that you've slipped up on something like gender agreement or the choice of ser / estar – according to the official marking criteria, you will actually be positively assessed for such self-correction. Clearly it is better, though, to master it all and to practice during your exam preparation to apply these forms consistently correctly…
I hope that this blog post has provided you with the basics for mastering ser / estar and gender in Spanish.  Fuller explanations of gender agreement and the correct use of ser and estar – together with much more clarification of other puzzling aspects of Spanish grammar – can be found in our DELEhelp Workbook #2 entitled "Demystifying Spanish Grammar". Just as with our Workbook #9.2 (DELE Exam Orientation and Acing Tips), our Workbook #2 is also available free as a .pdf download to any readers of this DELEhelp blog who ask for it via our easy-to-use contact form: just click on the image above promoting the sample book, and the form will pop up, or click on this LINK.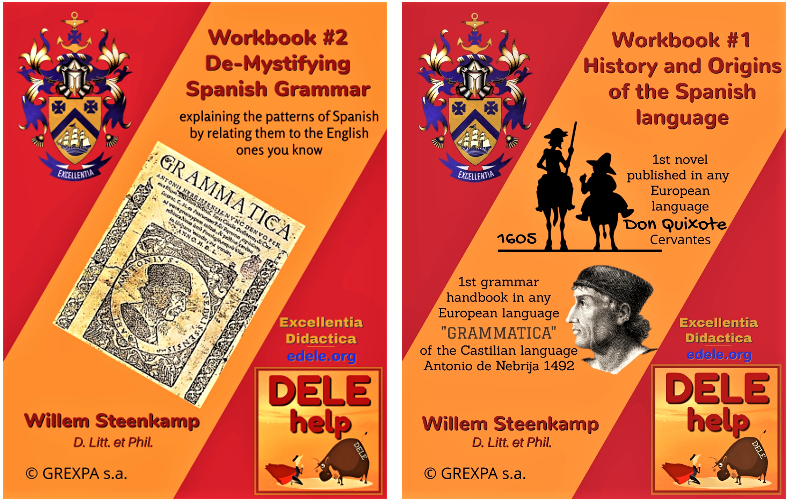 If you have questions on any of our blog posts, or regarding the DELE / SIELE & OPI exams or aspects of Spanish grammar, don't hesitate to jot them down in the comment column of this blog – we try to answer all.
For more information on our team and what we can do to help you with your Spanish exam preparation, please visit our website by clicking on the image below. Remember, we specialize in helping English-speaking candidates online, 1-on-1, with their preparation for the DELE / SIELE & OPI exams. Our Skype tuition is convenient, affordable, flexible, personalized and practical. Why not try our one-hour free sample session? (You can ask for it with the same contact form as for the book).
Buena suerte with your Spanish exam preparation
 Salu2
 Willem