DELE SIELE EXAM PREP IMMERSION
Self-study at home for the DELE exam (or its more flexible new online version, the SIELE and its American equivalent, the OPIc) via Skype is convenient, personalized and affordable. But some of you may want to supplement this with a total immersion in Hispanic culture and conversation (especially during the last week or so before the set date for the examen DELE, or before your appointment for doing the SIELE). Think of homestay with a native Spanish-speaking family. Intensive, one-on-one tutoring that follows your existing DELEhelp study plan and methodology. Affordable, and situated in a beautiful and interesting environment…
DELEhelp is partnered with the renowned language school PROBIGUA in La Antigua Guatemala, to offer just such a possibility to our students – even during the pandemic (safely, with dedicated bubble protocols). One can say that we are the internet arm of PROBIGUA, and they in turn are our residential school arm. In fact, we are the academic content provider to PROBIGUA, so that your existing study plan and preferred learning methodology will be respected and continued with, when you come here for immersion. It is quite likely that you will come face-to-face with some of your DELEhelp Skype tutors, if you choose to do your immersive "pre-exam polishing" at PROBIGUA!
In this Blog-post we will give you more information about PROBIGUA as our recommended DELE and SIELE exam preparation immersion destination, as well as on the beautiful, historic colonial capital city of La Antigua Guatemala (a UNESCO World Heritage site), but if you want to see a quick 1-minute video on the subject rather than read all about it, you can simply click on the image below, and be taken straight to the video:
PROBIGUA stands for Proyecto Bibliotecas Guatemala. The school (which is non-profit) is one of the two legs of what is a laudable social responsibility venture. The other leg, is the promotion of learning in rural areas of Guatemala, which PROBIGUA does through building schools, and the running of their famous "libraries on wheels" (converted U.S. school buses) to schools and villages in the countryside. This is done with the aid of the Swiss PROBIGUA Foundation.
Here are some images related to the mobile libraries and the school building project: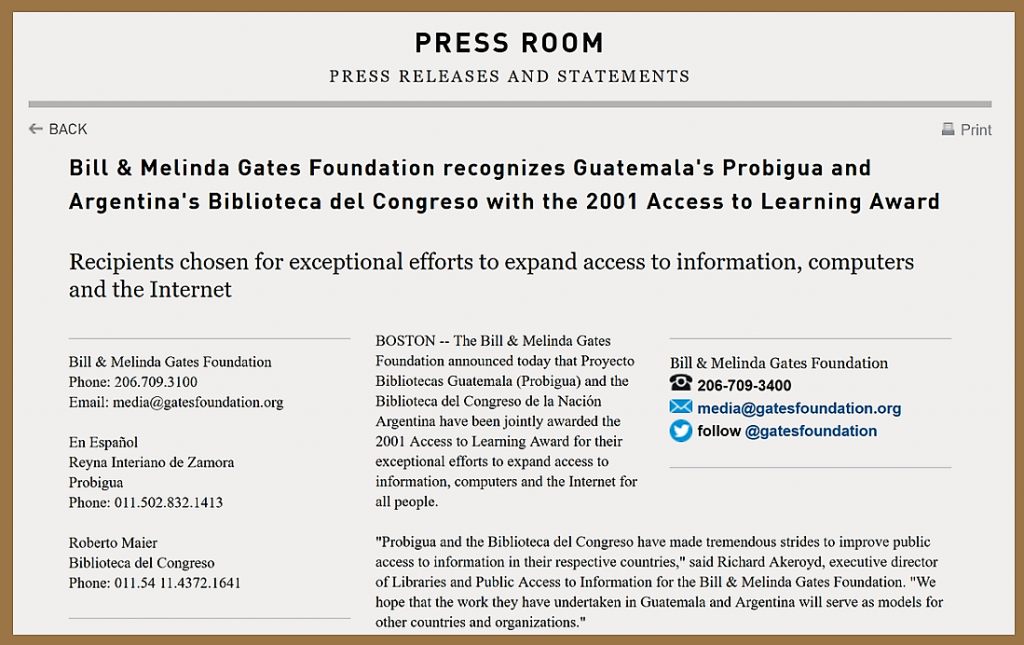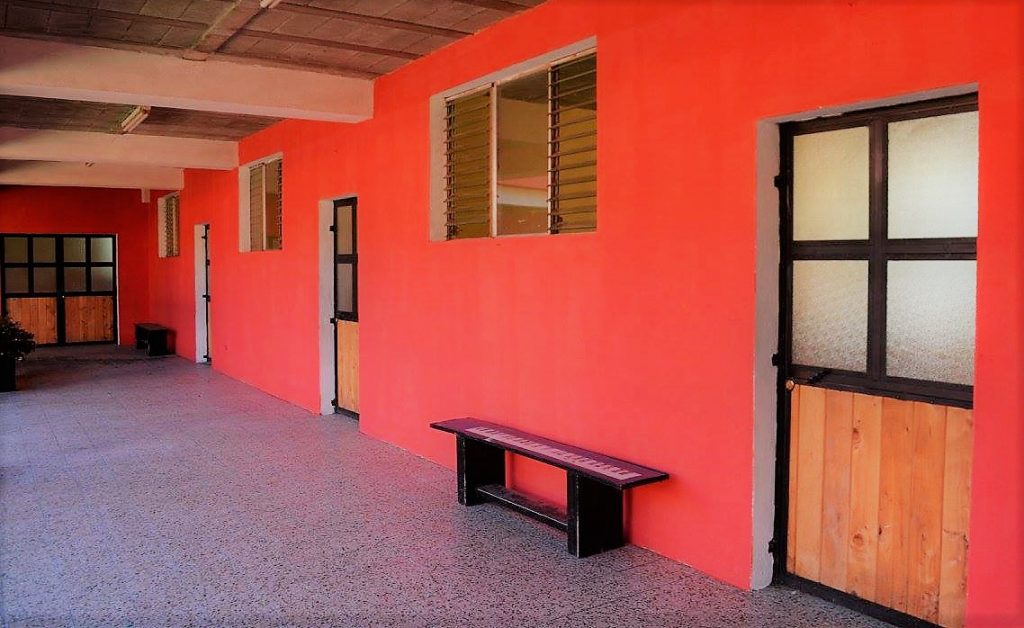 :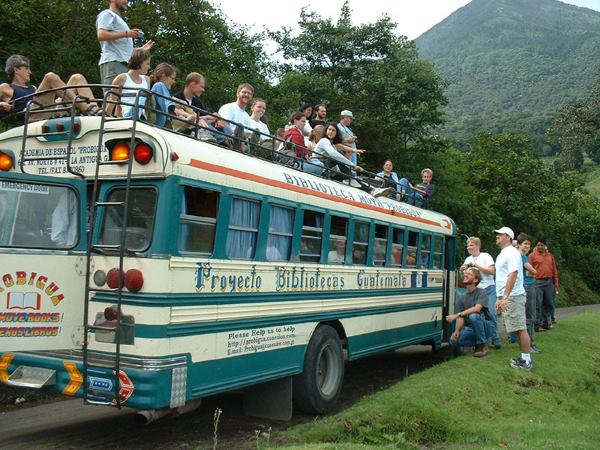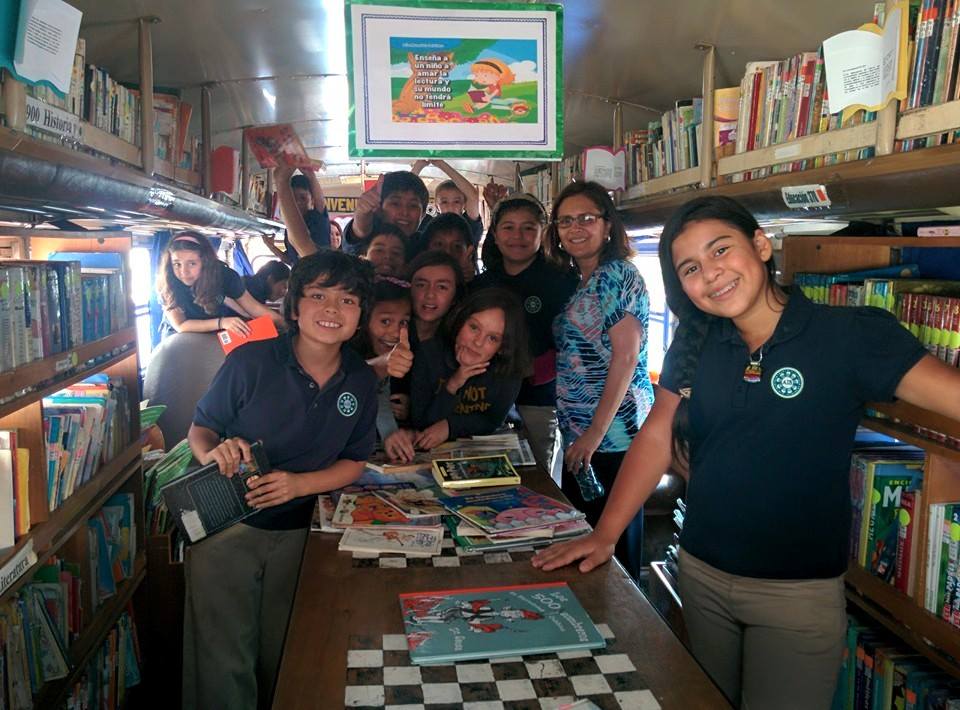 As you can see, PROBIGUA won the Bill & Melinda Gates Foundation's prestigious "Access to Learning Award" in 2001, and their efforts were also recognised by pope Francis in 2016.
Furthermore, PROBIGUA is an accredited exam center for the Spanish competency SIELE exams (the flexible new online twin of the DELE) and for the equivalent American OPI family of Spanish language exams.
By coming to PROBIGUA for your DELE / SIELE exam preparation immersion, you will therefore not only be attending a top school, but you will be contributing to job creation for the expert maestras as well, plus you will have the opportunity to see more of Guatemala than just La Antigua and participate in PROBIGUA's very interesting and laudable social and community activities.
The PROBIGUA language school is housed in the heart of La Antigua Guatemala, 10 minutes from the central plaza and located in the shadow of its most beautiful church – the Belen chapel (the convent of Belen provides safe accommodation, meals as well as socially distanced teaching spaces in its gardens). The facilities offer a pleasant and technologically well-equipped learning environment. Classes are one-on-one, in attractive surroundings. As said, DELEhelp is PROBIGUA's academic content provider and internet arm, so your existing study plan and methodology will seamlessly integrate.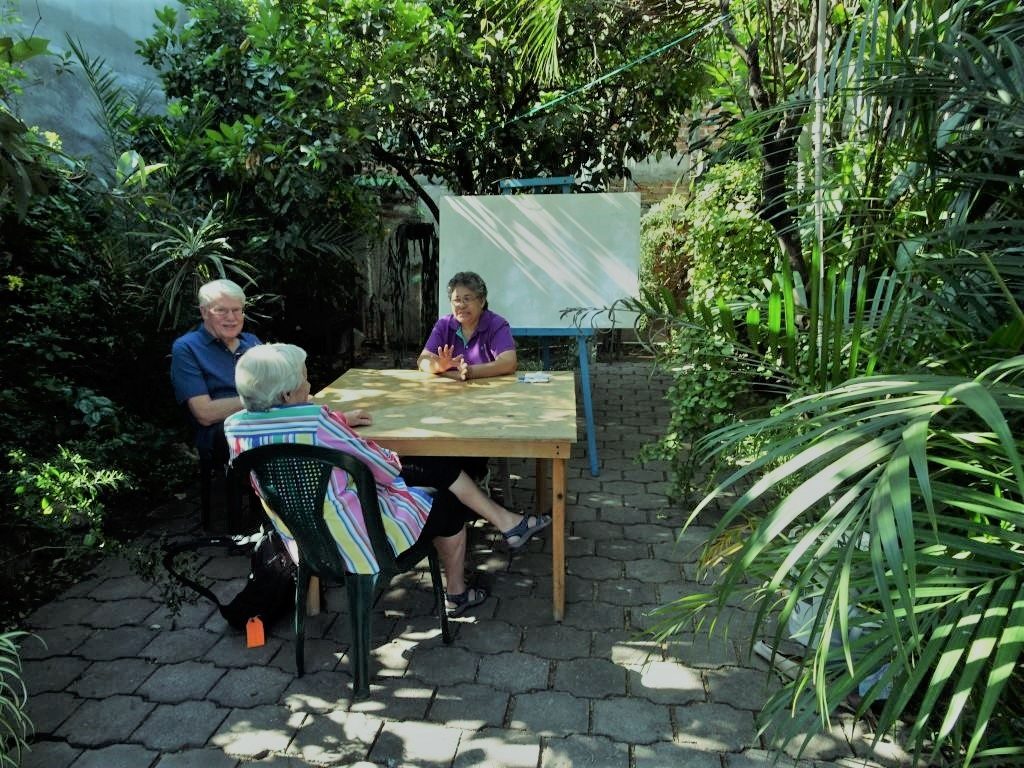 ABOUT LA ANTIGUA GUATEMALA: Our historic little city was once the capital of all Spain's imperial possessions between Panama and Mexico. With its cobbled streets and colonial architecture (well preserved, except for the many signs of the might of the region's earthquakes!)  La Antigua is regarded as the best-conserved colonial city in Central America and is now also the latter region's most-visited tourist destination.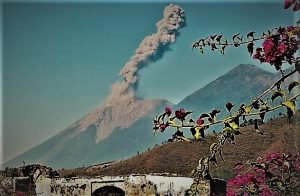 Historic, plus scenically beautiful in its  green valley among its three volcanos (Volcan Fuego is still active) as well as strikingly cosmopolitan, this little city that seems to have woken up like Rip van Winkle boasts countless excellent restaurants and attractions for its many visitors. La Antigua is also regarded as one of the world's top centers for the teaching of Spanish as foreign language. This is thanks to the locals naturally speaking correctly, slowly, while articulating clearly and without much of an accent  (the local way of speaking is due to La Antigua having been the capital and seat of the learned bureaucracy as well as of many religious orders and one of the oldest universities in all of the Americas; the locals were therefore formed in the Castilian upper-class way of speaking, unlike the lowland areas of Latin America where the Andalusian accent and tradition of rapid speech was the formative norm).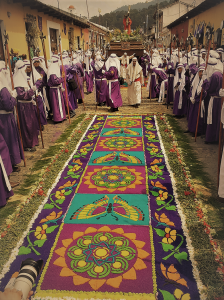 The reason why La Antigua went into a twohundred year deep sleep, was probably political – although the great Santa Martha earthquake of 1773 was a destructive reality that provided a convenient excuse. The 1770's were turbulent times in the Americas, and the Bourbon dynasty in Spain wasn't that well settled either. In 1773 a new Captain-General was sent to what was then known as Santiago de los Caballeros (la Antigua's former name) with orders to i.a. dis-empower the very powerful clergy, who exerted considerable political influence from their great cathedrals, monasteries and palaces which dominated almost every square block of the colonial city. Shortly after the new Captain-General's arrival, the great earthquake flattened much of the city, and he ordered that the capital needed to be moved to the "safer" site of the present-day Guatemala City, some 50 miles away. (A previous earthquake had struck La Antigua some 20 years earlier, from which it had by 1773 mostly been restored to its proper imperial splendour, and most locals had wanted to re-build again, after the 1773 quake, rather than move).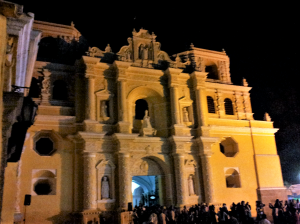 This order to move the capital lock, stock and barrel, had the effect of forcing the once-wealthy clergy not to restore again their imposing edifices, but to abandon them and go and construct anew, from scratch, at the new site, during tough economic times for the Spanish empire. The order to move was made final by the king in 1775, literally on pain of death, and the city was almost completely abandoned, to the point of losing its name and coming to be referred to as "la Antigua Guatemala" (i.e., old Guatemala). This exodus, ironically, ensured that it was saved from modernisation. Today the ruins of the once-great edifices still abound, untouched, dotted all over our little city and serving now as awe-inspiring tourist attractions.
For more about La Antigua's importance as a UNESCO World Heritage Site, you can follow this link:  http://whc.unesco.org/en/list/65
The New York Times recently published an excellent short video (6 minutes) on La Antigua as destination, which will give you a good idea of what to see and do here: http://tinyurl.com/zl8fsk9
So, for an affordable, interesting and academically worthwhile DELE SIELE exam prep immersion ahead of sitting your exam, come to PROBIGUA in La Antigua Guatemala. Here your DELEhelp tuition will continue seamlessly. You can also be part of a laudable social venture with rewarding community interaction opportunities, and you will be surrounded by spectacularly beautiful cultural and natural scenery, while enjoying the perfect climate of the "city of eternal spring".  To go to PROBIGUA's own Facebook page, just click on the image on the right.
Saludos cordiales
Willem